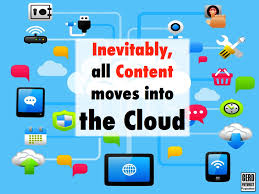 Follow any trend in technology and you're likely to see such leaps and bounds that occur at exponential rates and  taking a look at the future of infrastructure in computing and it's no exception. In the early days computer systems where based on large mainframes with inputs and outputs, today they mostly exist on a desktop network.
When it comes to providing infrastructure today, the cloud has risen to the top and it provides a way for data to be accessed at anytime from anywhere. The cloud has become a household term, and within ten years has been adopted by nearly every computer and information system today. It was predicted by many in the early days of computing that the future of information systems would be a centrally based system accessible by all types of devices. As we see have see the migration from large mainframe systems to the cloud, it is ironic that the cloud holds a vastly infinite capability in comparison and takes computing  from a centralized to a decentralized system.
So just what is in store for the future of computing and what do the coming years hold? The client servers of the cloud offer a new found freedom and flexibility for businesses. Just as the desktop networks of today have replaced the central mainframes of the past, we will soon see the future of the cloud migrate from usage based to capacity based billing as the amount of information becomes exponential effectively rendering our current payment systems obsolete.
The cloud is the present and the future so all IT people need to embrace it and harness its power.
Steve Blythe (Recruitment and Social Media Commentator).
---