Will Roebuck, Managing Director at our National Security & Defence sub-brand, and Kelly Harvey, Account Manager, sat down with Director and host, Olly Preston, to discuss hiring security cleared tech professionals in Episode 3. Read some of the main takes from the podcast below…
What does the National Security & Defence market consist of?
So, NS&D covers anything that requires security clearance at any point in the journey, which could be before someone starts or whilst they're in a job. It covers everything from National Security, Intelligence agencies, Ministry of Defence, NHS etc.
It's not just the huge organisations, we work with around 4 to 10 leading Defence companies in the world, as well as a lot of National Security clients. Most recently we have taken the pleasure in working with a lot of SMEs, starting out from 10 to 20 staff up to 40 staff!
What are the various levels of clearance that you must cover daily in National Security & Defence?
Firstly there is DBS (Disclosure ad Barring Service), Scottish Disclosure -or CRB (Criminal Records Bureau ) which costs around £18 – £25 and which anyone walking the street can get.
Next type of clearance is a BPSS, this stands for Baseline Personnel Security Standard. Essentially this is criminal record check which checks 5 years of employment records, 5 years of address history, checks if you've been out to country for 28 days or more etc., and this takes about 3 weeks. To work on any government project, you go through a BPSS check.
The second type and the most popular in terms of what we recruit for is SC Clearance. It's very similar to BPSS, in terms of all the above checks but also includes financial records checks.
Then the big, more famous one, is the DV Clearance, which typically takes 9 months to go through. Coming out of COVID left a bit of a backlog, so you're looking at 18 months on some occasions to go through a DV. It does everything that a BPSS and an SC clearance does, but you have to be a UK citizen 10 years minimum, Have to be British (only some instances where you can be cleared if not), 28 days maximum out the UK, 10 years reference checks, Credit Check, 1-2-1 interview with a vetting officer and Drugs test (goes back 12 months).
Can you fast track that process and still be considered if you have no clearance levels whatsoever?
In permanent roles, quite often people will start uncleared and go through clearance whilst working rather than before they start. It is a bit more unusual in the contract market however, especially DV clearance, as mentioned earlier this typically takes 9 months, and if you're on a contract you can't wait 9 months to start.
What are the obvious differences between recruiting traditional IT recruitment staff, and security cleared staff?
If you hold security clearance, you're not supposed to publicly state this. So, in terms of CV's people don't typically put this on their CV or on their LinkedIn. Meaning when you search for, 'Security Clearance', you get absolutely nothing in return. We have to shift to a new way of searching, which is much more complicated and quite often like a second language!
There's a lot of reading between the lines and a lot of "if I was to say this, would you correct me?". We can quite often pick out the people that hold clearance without them stating it.
Why is it important for clients to put themselves out there, despite the fact that you can't necessarily divulge a lot of information when working in this sector?
Getting involved in EXPOs are great as people are much more willing face to face to divulge. Not everyone wants to mention Clearance on paper, but face to face, you can typically speak in a more safe environment.
If we can't have those conversations over the phone, let's all meet up! It just makes more sense to be out there, and it is a tight knit community, once you're in, you're in, so getting in is the point! As clients go to these events it is great to make yourself also known. I also think when you are looking at just such a massive shortage of talent clearance, why not get yourself involved?
What are some pitfalls or challenges of working within National Security & Defence?
It's such a complicated world and quite often quite a secretive world as well, which means that people don't talk, which can cause misinformation, as said before it's a lot of talking between the lines or almost using a second language. If you do that wrong, it can quite quickly become quite muddy
There's also a lot of misconceptions, what meant you were eligible for clearance two years ago isn't necessarily the same now. We've seen people get SC Clearance in 4 weeks and then coming out of COVID, it was looking like 12 weeks. It's all we do because we do it 40 hours a week, so we can navigate that quite easily.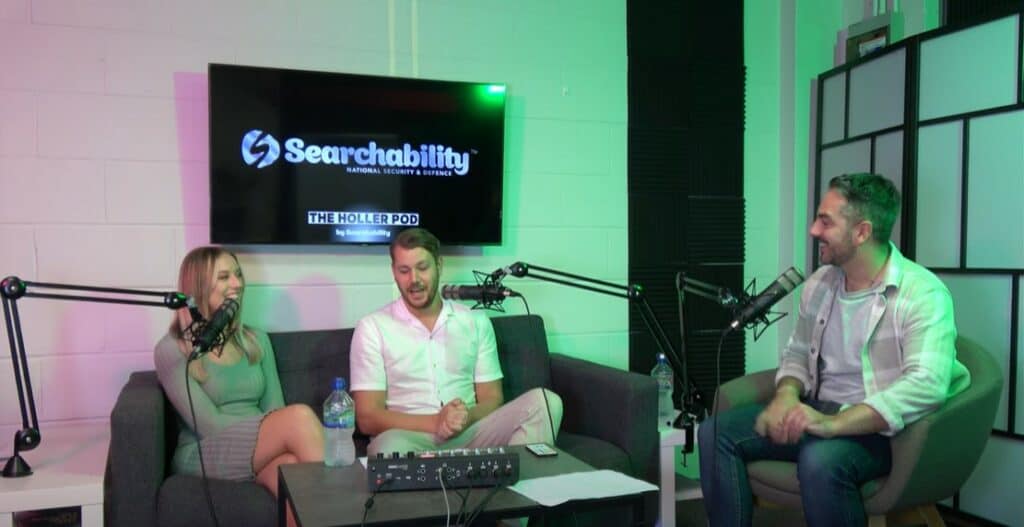 Top tips for our listeners?
Find your unique selling point, because there's so much competition for the same people, so if someone has the technical shortage as well as the technical skill shortage and the clearance, then they're very in demand. You'll get six companies sometimes fighting and offering as much as they can or trying to offer them X, Y, or Z to skew that candidate.
Be mindful of the candidate journey, you can get really held up in 'this is what we need, these are our deliverables', but you really don't want to be annoying in a tight knit community, who as mentioned before, all go to these EXPOs and are big dominant players. There's a lot of interchanging parts between these businesses, so you've got to be mindful of that journey, make sure you're giving feedback.
Don't limit your outreach, you need to go to as wide of an audience as you can. We deal with some SMEs who only have an internal recruitment team of 1 or 2 and try and do it all themselves but I think the more tools you can open up the better. You can only use the resources you've got, but it helps if you diversify your supply chain a little bit. For example, we look at different passages such as Slack, Twitter and Reddit.
Work with specialists, half the time people won't want to speak about what clearance they've got. We get a lot of occasions where people will say they're cleared, and we'll know they're not or we'll get people who don't know what clearance they have. There's a whole way of engaging with clearance, so work with people who specialise in the area.
To watch/listen to the full podcast, you can check it out on any of these channels:
To check out more about Searchability's National Security & Defence sub-brand, click here.