As a recruitment agency who specialises in the IT and Digital sectors, we have witnessed a number of changes in behaviour from companies and candidates first hand, giving us incredible market insights that enable us to successfully place tech talent across the UK. The COVID-19 pandemic has posed an unprecedented situation upon our industry, with many of our clients and candidates questioning what the right thing is to do about looking for a new hire or a new role. At Searchability we are lucky to have robust business continuity procedures in place, which is why we have continued to work as normal (well, the "new normal" at least from our home offices), so we wanted to share some of our insights to potential candidates / clients looking for reassurance and guidance on what to do next. Yesterday Steven Williams gave us an insight into the software engineering market in London, and today his colleague Daniel Jones is sharing his own insights from the software engineering recruitment market in the Home Counties.

Fewer jobs being posted
It comes as no surprise that we have seen a downturn in jobs being posted, as reports suggest that many organisations have chosen to hold off on recruitment until the COVID-19 pandemic stabilises for both cost purposes, and logistics purposes where they are unable to work remotely. Indeed shows that software engineer and software developer adverts posted in The Home Counties have dropped by over 50% since 2019(see below), but interestingly enough the number of available candidates has gone up, meaning the companies who are in a position to hire immediately or in 1-2 months' time that have chosen to take their jobs off the market, could be missing out on great tech talent. It will be interesting to see how this develops as we navigate our way through the pandemic, and as we slowly come out of lockdown in the UK, but from a personal note I have already seen more clients approach us directly looking for tech talent both remotely and ready for after the lockdown is lifted.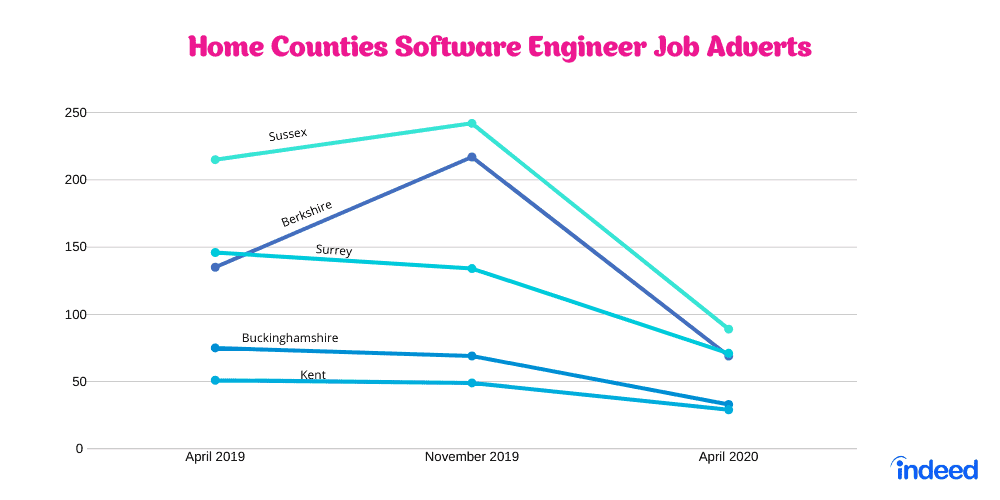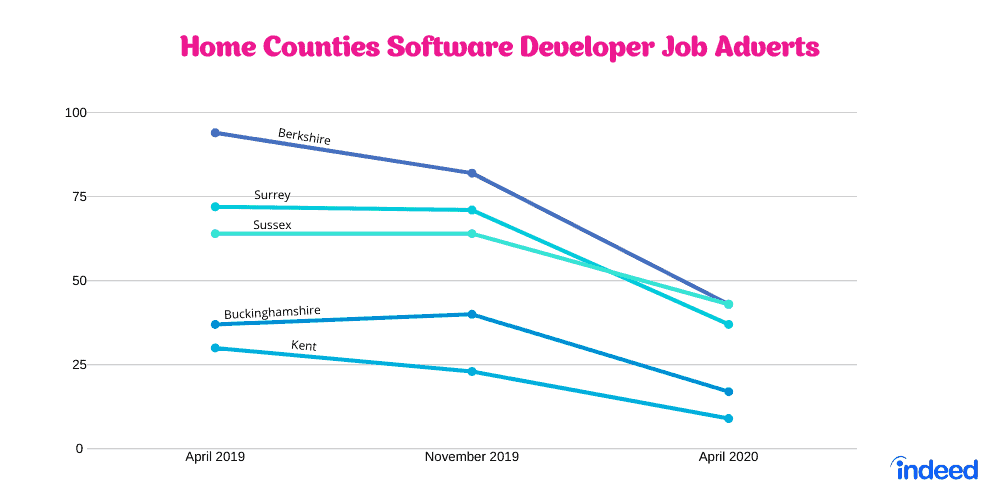 People questioning their commute
While there are of course many tech organisations based in The Home Counties, including the M4 Corridor that is home to a number of tech giants, there is often a lot of competition for talent with organisations based in Central London from candidates who choose to commute into the capital. One thing that the coronavirus has forced us all to do is restrict essential travel, albeit temporarily, however many reports suggest that the effects of COVID-19 will lead to a new mindset for many of us, with fewer individuals choosing to commute heavily via public transport for environmental and health reasons. This will undoubtedly lead to an increase in companies adopting a work from home culture at least some of the time, but it may also lead to candidates who live in The Home Counties towns looking for opportunities closer to home.
Candidates are looking for more than just salary
This new mindset will stretch beyond a candidate's choice of commute, and we expect more candidates to be looking at exactly what their employers are offering to them above the standard salary and bonus etc. With many people furloughed, or working from home during lockdown it has given people time to really reflect on what is important, and we expect to see more candidates favouring companies who offer a better work life balance, flexibility and also purpose behind the work they are doing.
If you are an organisation who is already ahead of the pack with this, then now is the perfect time to shout about it as candidates who are home are typically more digitally engaged than when they are working from the office.

Companies hiring are securing great tech talent
A shortage of advertised jobs coupled with an increase in available candidates has meant that the companies that have held firm and continued to hire are winning by securing great talent who wouldn't always be available on the market, in a much faster timeframe than usual. While at first we were concerned that the travel restrictions, and later the lockdown, would have caused delays and problems with the traditional interview process, we have seen that clients and candidates have really embraced the virtual approach, with many opting to use our Searchability Go video interview tool as part of their process. By being at home with increased time on our hands due to cancelled events, zero commutes or other breaks from work, candidates have more availability to research company propositions, conduct phone interviews and jump onto video calls, so if you have a role that you are thinking of holding off on until normal life resumes (whenever that will be), it could be worth exploring the market right now to see if you can secure a great technical candidate before your competitors do!
These are just some of the insights I have taken from the Lockdown, and I am sure we will start to notice even more changes as the situation develops, however that will look in the UK. I am still working as normal (except instead of the CityPoint Office I am working from home in my kitchen / office setup (which is way too close to the fridge). Also, there are seven cats in this house which can be challenging! But I am still speaking to dozens of tech specialists in the Home Counties each week, so if you are after some advice on your talent pipeline or next career move please feel free to reach out to me directly.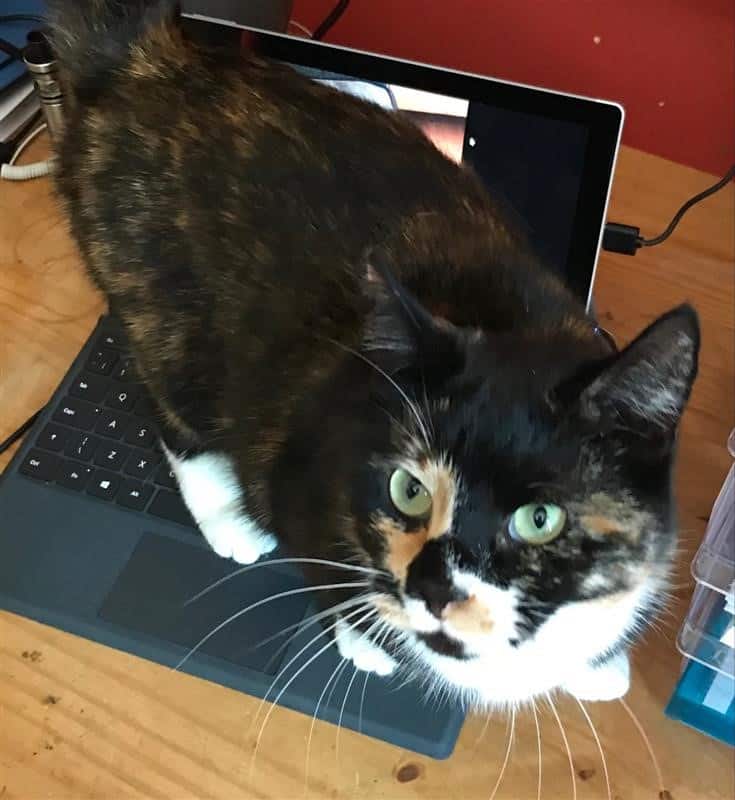 Stay safe everyone!