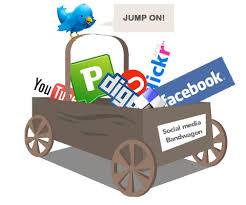 Speaking from personal experience, I can concur with this article; social media has completely revolutionized the way companies conduct business. Not only is it now easier to reach customers and clients, businesses which are taking advantage of the power of social media are having an easier time than ever finding employees that fit the corporation best.
In the world of communication, one method in particular reigns supreme. Throughout recent years social media has swiftly replaced traditional mail, phone calls and even email as being a primary way people stay in touch. It is not, however, just friends and family members utilizing this resource. As the article pointed out, businesses that use social media have a distinct advantage over their competitors. One advantage is the ease with which recruiters can find and select the best employees for that particular company. While online profiles are not, on their own, a substitute for a résumé and interview, it certainly bridges the gap and connects both parties.
Today corporations are connecting to both prospective and current staff members. This new way of interaction ensures a certain degree of transparency, on behalf of both the employee and the employer. It also facilitates better communication while removing some of the hurdles of a traditional employment model, such as a Human Resources office. Of course this is not to say that traditional hiring methods and personnel management should be foregone entirely. As pointed out, any individual could construct a false persona online with relative ease. So there is still a need for the old fashioned recruitment processes. Social media has, however, successfully streamlined and revolutionized this process entirely.
Steve Blythe (Recruitment and Social Media Commentator).
---