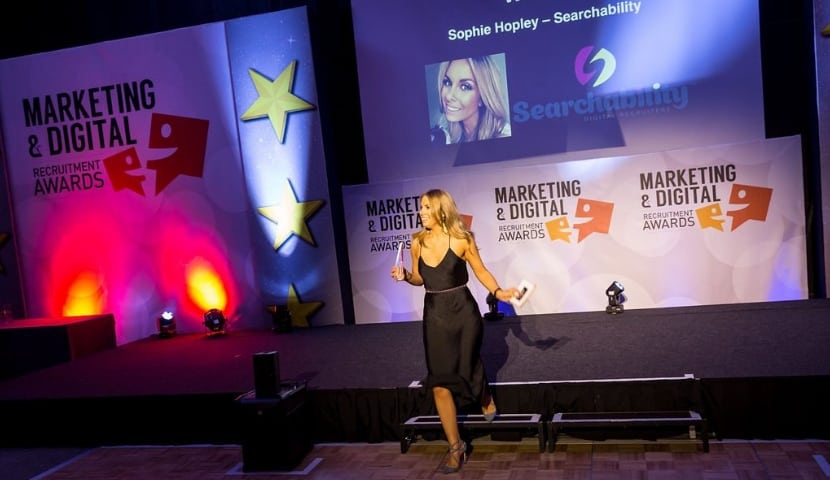 Last week the Searchability team made the journey from Chester to London to attend the annual Marketing and Digital Recruitment Awards. This year's event was held at the stunning Hilton London Bankside Hotel, and as with previous years the night did not disappoint with plenty of fizz, great entertainment and fantastic food.
Searchability were up for an incredible six awards this year, and we are happy to say we did not come home empty handed as our very own Sophie Hopley was awarded the individual title of "Marketing Star of the Year".

Sophie joined Searchability in March 2015, with a background in marketing and quickly immersed herself into the world of recruitment to help support the Searchability strategy. As well as delving into the world of IT recruitment marketing, Sophie gained a qualification in Employer Brand Leadership and developed a niche within employer branding for candidate attraction and engagement, which lead to the development of our sister proposition JobHoller. The Marketing and Digital Recruitment Awards judges said:
"Demonstrating innovative approaches to digital and traditional marketing, whilst delivering focussed traditional marketing campaigns, the winner of this category helped generate relevant and convertible leads for their recruiters and provided loads of stats to demonstrate ROI on a specific campaign."
The award win comes at an exciting time for Searchability as we are looking to launch a brand-new proposition for clients that centres around inbound recruitment marketing in 2019. As well as delivering tailored campaigns for this new proposition (which we will be announcing very soon!
), Sophie will be representing our sister brand JobHoller at World Employer Branding Day in Lisbon, delivering a workshop titled: "The Campaign Approach: Social media as a platform to attract and engage candidates", exploring how companies can activate their EVP across the digital eco-system.