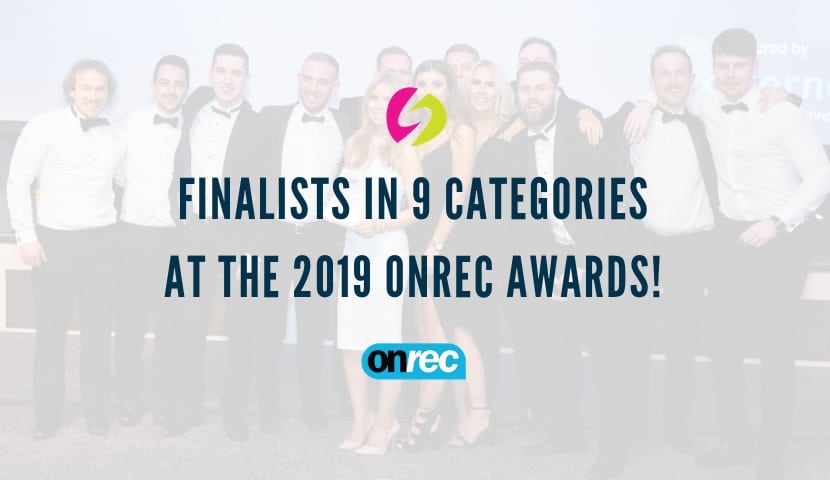 There are no January blues to be found at Searchability this week as we have been named as finalists in 9 categories at the 2019 Onrec Awards! The prestigious Onrec Awards take place annually at The Grange St Pauls in London, recognising some of the top achievements in online recruitment across agencies, suppliers and corporate businesses too. Our nominations this year have been spread across all areas of our business with recognition for Searchability as a digital recruitment agency, JobHoller as our employer branding agency, Gradability for our graduate recruitment site as well as personal recognition for one of our consultants Chris Hopley! Here's a glimpse of what we are in the running for:
The Creative Online Marketing Award – Searchability AND JobHoller


We are in the running for this across two categories this year – Supplier and Niche for Searchability and our employer branding arm of the business JobHoller. JobHoller actually took away the title of this in 2018, so we are excited to see if we can keep up our winning streak for a second year! This is such an important award, both for Searchability and JobHoller because marketing is at the heart of our business. For JobHoller, the last 12 months efforts for online marketing have been aimed at raising brand awareness, improving our organic SEO and cementing our presence in the employer brand landscape. Searchability on the other hand already has that solid brand awareness and so the last 12 months has been all about tapping into our social presence for candidate attraction as well as growing our individual recruitment brands too.
The Technical Innovation Award – Hub by Searchability


We are particularly excited about this one because it comes at a time where we are launching something brand new: Hub by Searchability! Our bespoke technology and digital campaigns allow our clients to tap into the Searchability engine and get a dose of how we use content and targeted advertising for candidate attraction. The technology has been imagined, built and tested by Searchability recruitment experts, meaning it has a whole raft of features that help make attracting and hiring candidates simple and effective, and not just a lot of unnecessary tools thought up by a big software house that doesn't fully understand recruitment!
The Best Corporate Graduate Site Award – Gradability


This is the first time Gradability has been recognised for its own individual award! We have been pushing content out through Gradability for a few years now aimed at engaging both IT grads and the companies who are looking to hire them, but in the last 12 months we decided to transform this into something much bigger. Gradability now has its own presence on the Searchability site, with a live job board of grad specific roles, advice and incentives for IT grads and graduate employers, as well as up to date grad events too. We have some exciting plans for Gradability in 2019 so watch this space to find out more!
The Innovative use of Social Media in the Recruitment Process Award – Searchability


At Searchability we pride ourselves on using innovative social sourcing and social media marketing methods to find the best technical talent for our clients. It's at the heart of everything we do and we have been able to use social media to build targeted talent pools of candidates, increase job applications, collaborate with tech industry leaders for content creation and increase our overall reputation as a digital recruitment agency.
The Best use of Online Recruitment by a Recruitment Agency – Searchability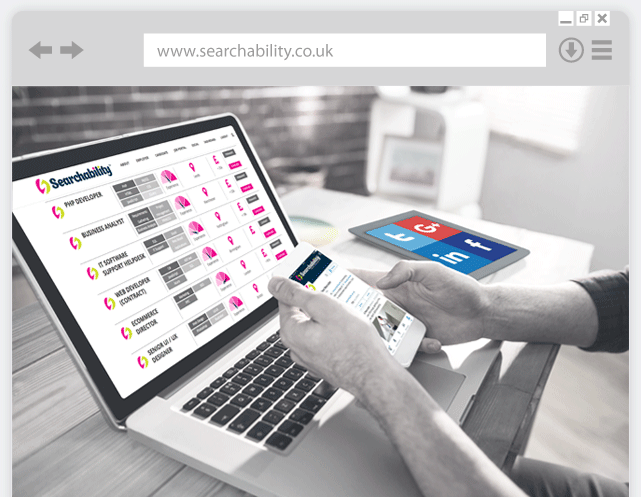 This is the Onrec awards after all so online recruitment is a huge part of this event, and it's also a big part of what we do at Searchability. While a great deal of our success is a result of our people, their talent for sourcing and sales and their dedication to succeed, our overall online Searchability engine helps drive all of this. Whether it's using our unique technology and online campaigns to raise awareness and attract candidates, communicating our specialisms through our website or tapping into the vast power of social media, this robust online strategy helps our recruiters do what they do best: find great candidates and secure them job roles with great companies!
The Best Online Candidate Experience Award – JobHoller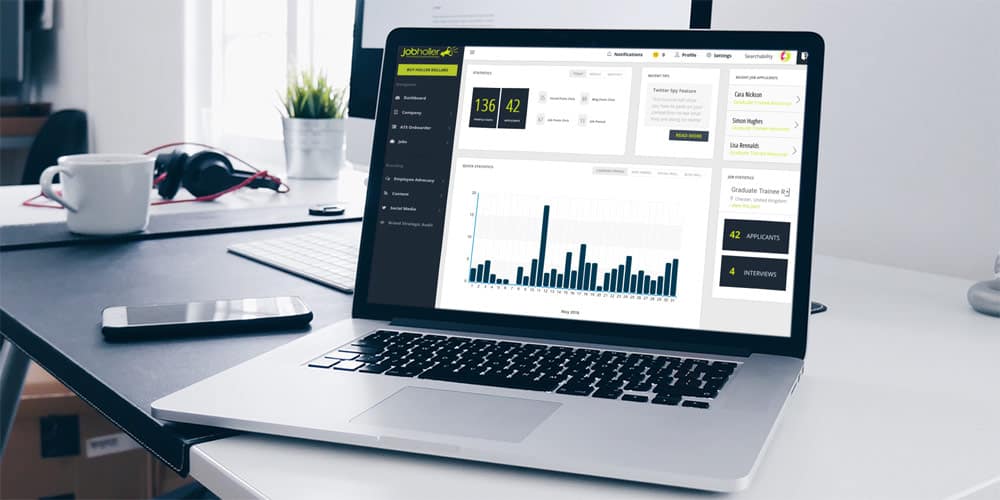 This award nomination is all about the JobHoller technology, which is designed to enhance the candidate experience from the very first interaction a candidate has with a company's employer brand, right up to the onboarding stage when they are hired. There are lots of great tools that help companies showcase their culture and give an insight into what it's like to work for them, all of which are optimised for mobile and there is also a sophisticated applicant tracking system that can be personalised to allow for automation (saving time for the company who is recruiting) without losing that all important personal touch for the candidate.
The Best Use of Mobile – Searchability


We currently hold the title for this award at Searchability, in fact we have won "The Best Use of Mobile" in 2018, 2017 and 2016 too! Mobile strategy is one of the main focuses at Searchability because the majority of our candidates will either search and apply for roles via a mobile device or will be managing the candidate process via a mobile phone. Our mobile app used to be a big part of this, however we have stepped away from this in 2018 to focus our efforts on enhancing the mobile experience for our candidates across our job portal, social media streams and email campaigns.
The Personality of the Year Award – Chris Hopley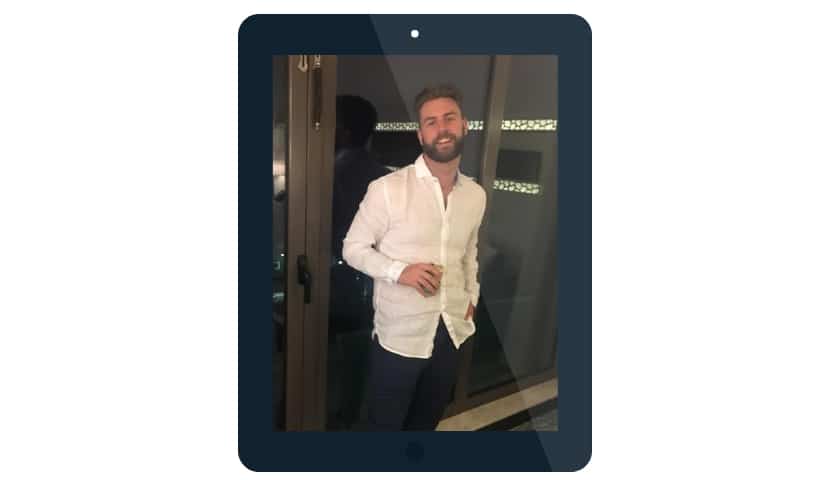 It's always nice when an individual is recognised, last year it was our Contracts Director Olly Preston who won "Personality of the Year" at the Onrec Awards, and this year we are delighted to announce that Chris Hopley (IT Support & Infrastructure Manager at Searchability) is in the running for the title. The Personality of the Year award recognises individuals who have worked hard and achieved something special, and with 5.5+ years' service for Searchability Chris has done just that. Chris became our first ever DevOps specialist at Searchability, leads his own recruitment team whilst working as one of our leading perm billing consultants, nurtures client relationships and takes time out of his day to help others with everything from setting up computers and cables to leading training sessions.
The Onrec Awards will take place on Thursday 7th March 2019 at the Grange St Pauls in London – we will be tweeting live from the event so to find out how we get on follow us on Twitter here!