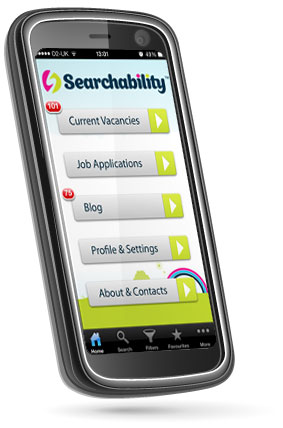 Want to move job? Time to get MOBILE: If you're one of the 93% of the UK adult population who owns a mobile phone you're probably a bit like me, You depend on it for the majority of your day and feel as if you can't function if the battery dies or you accidentally leave it at home!
A recent study showed that us Brits look at our smartphones up to 34 times a day (although a few of us are guilty of more!) so it is no wonder recruiters (such as Searchability) are harnessing this mobile trend and converting it to business! Not only are mobile phones constantly evolving (just take a look at the iPhone 6 next to the first iPhone!) but the key is in the name: MOBILE. As a society we are always on the move whether for work or social reasons so it is key to have internet and phone access on the go. If we weren't tapping into this ever-expanding cultural trend we wouldn't be nominated for 'The Best Use of Mobile Award 2015' at next week's Onrec Awards (which by the way we are!).  We have successfully adapted our business to ensure we can target both candidates and employers through the use of mobile and here's a few ways we have achieved that:
Mobile ready website – Our new website not only looks amazing and has great functionality but we have also launched a mobile ready site designed specifically for candidates and employers that spend a lot of their online time through a phone or tablet! Applicants can apply for roles with just 1 click and connect to their LinkedIn profile easily to help make finding a new job less hard work!
Mobile App – If you don't fancy browsing our website through the website you can download our app which is completely free! It has the main functions of the website but has been streamlined for the user and will give you job alerts direct to your mobile!
Twitter – By following us on Twitter you will get up to date vacancies as well as handy tips for job applications and interviews! If you're a company looking for new staff in IT support or development roles then you too can follow us on our area targeted Twitter feeds to receive alerts of new candidates in your area!
LinkedIn / Facebook – If Twitters not your thing we also regularly update our LinkedIn, Facebook and pages which up to date job roles and recruitment news to help match candidate to employer quickly and easily. Connect with us on LinkedIn or like us on Facebook today to start receiving updates!
We're not stopping there, at Searchability we want to continue to push and explore the ways we can use Mobile for our business and create exciting and engaging ways to find new candidates! We pride ourselves on staying ahead of the pack in our recruitment processes and that means keeping up with trends in mobile phones and technology. At the end of the day we recruit IT and digital professionals – we're hardly going to find them with adverts in the weekly newspaper are we? We will definitely be crossing our fingers for the Onrec awards next week, so please keep following our progress to hear what's next!
Sophie Heaton (Digital Campaign Manager)