Founded in 2012 in the UK, Searchability set out to disrupt the traditional recruitment market and do things a little differently to help companies attract the very best tech talent. We were one of the first agencies to truly adopt social media as a platform to recruit, and since our inception we have continually sought ways to evolve our offering to transform the way brands recruit.
Today our teams operate across four global territories (UK, Europe, USA, and Australia) working across our unique full-service recruitment ecosystem (or RECOsystem as we like to call it) that provides customers solutions across every stage of their hiring / career journey. This includes our core tech recruitment brand Searchability as well as five sub brands: NS&D (national security and defence recruitment), Holler (employer brand consultancy), Klickstarters (graduate and early tech careers recruitment), Hirecracker (multi-sector recruitment) and Scalability (recruitment and employer brand subscriptions for scaling tech teams).
We have always looked to attract candidates who share our entrepreneurial spirit, and as a result we have a number of incredible success stories for our people at the Searchability group. We spoke to a few of our employees to hear more about their experiences:
Chris Hopley joined as a graduate in 2013 and is now a Director of our USA division: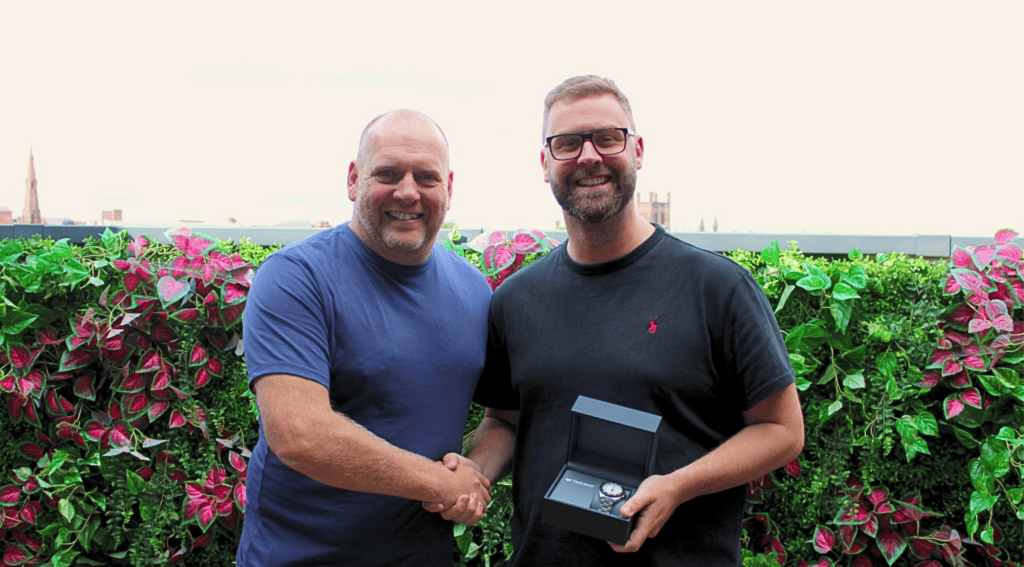 "Since walking in to Searchability over 10 years ago, the leadership and wider team have supported my growth not only as a professional recruitment consultant but also as a person. From starting out in 2013 as a graduate, working my way up to recently becoming a Director of our USA division, I couldn't have asked for more.

Every career aspiration I have had has been delivered to me, every idea I have had has been listened to, and from day one, you are treated by an equal within the business. If you're looking for a company who lets you thrive and achieve your dreams, you wouldn't find a better fit, headed up by an entrepreneurial, open minded leadership team.

Becoming a Recruitment Consultant isn't an easy feat, but if you choose the right organisation, with the right training and tools, all you have to do is come in, work hard and try your best, the rest will fall in to place."

Dan Massey joined in 2019 with no prior recruitment experience, and became our top biller on perm recruitment within his first year: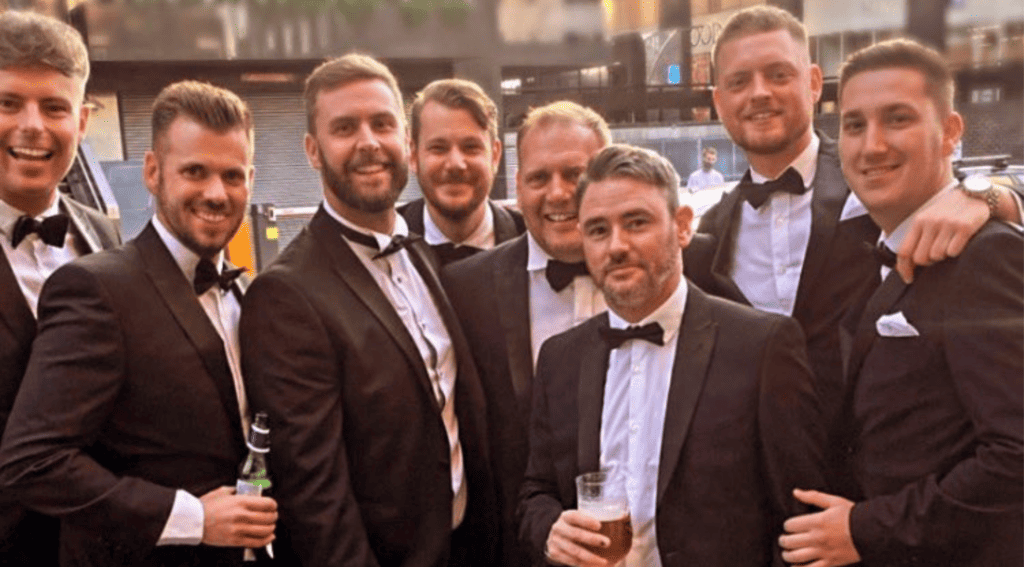 "I came into recruitment with zero industry experience just before the pandemic hit. I have been given nothing but support and encouragement from day one by the leadership team in the company.

I've always been trusted to work in a way that works for me whilst always knowing that help, support and advice was readily available whenever needed. Joining Searchability is honestly the best decision I've ever made and you can literally write your own career path and have doors open to you that you didn't know existed.

It really is a level playing field within the business which allowed me to go from trainee to top biller within my first 12 months "on the board" and it's the culture of the company that has allowed me to build on this in successive years. Needless to say, this job is a lot of hard work but you truly get out what you put in; with efforts and achievements readily recognised and celebrated. Working alongside likeminded people every day is amazing and I feel privileged to work for a company where work doesn't feel like just a job."
Katie Donoghue joined in 2015 as a business administrator, and has worked in almost every area of the business! This month she moves to Australia as a Director of our Australian brand setting up our new offices in Sydney: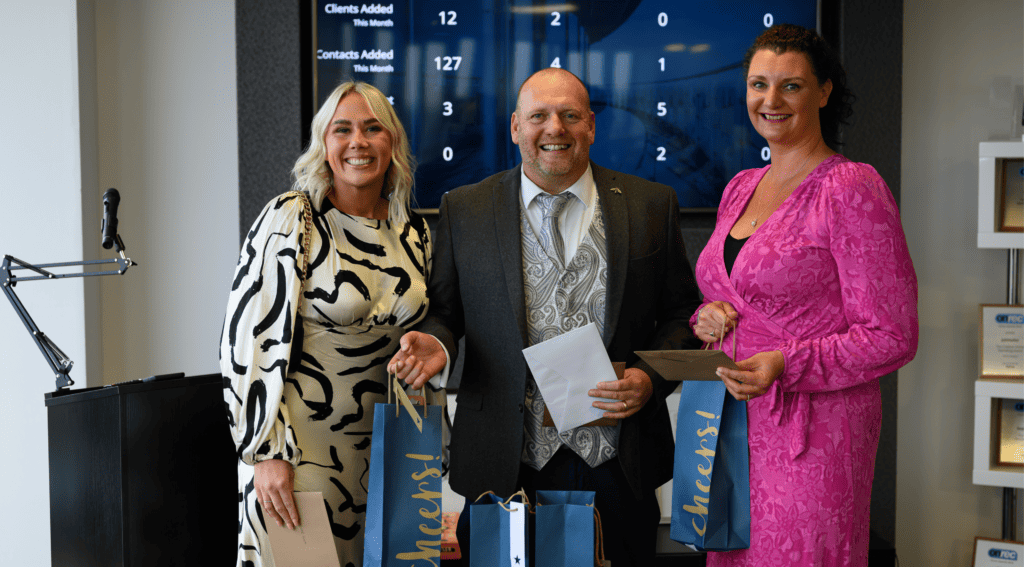 "I joined Searchability in 2015 after spending two years traveling and working in Australia. During my time here I have worked in every area of the business! Starting from business administration, social media marketing, resourcing, employer branding, HR, CRM data management, and then to recruiting! When I took the decision to move onto the recruitment side in 2021 I haven't looked back, surpassing my annual targets by 300%+ and helping to grow the Digital team to be one of the biggest revenue drivers for the brand.
I've always had a strong work ethic, and I think that is absolutely key to being successful in recruitment, it is definitely not for the fainthearted! When the discussion of opening a new branch in Australia arose, I knew this was something I wanted to be a part of, especially having lived there just before I joined Searchability. I worked closely with our MD and Liam Harvey (fellow manager and also my fiancé) to devise a strategy to expand into the Australian market, which included switching onto Australian working hours from the UK for three months prior to the official office move – again not for the fainthearted! Within this time we have built awareness of the brand, gained new clients and placed multiple candidates into their dream roles!
This month we open the doors to Searchability Australia in Sydney, and myself and Liam will be moving there as Directors of the brand. I could not have dreamed that this is where my career would have evolved to when I first interviewed for the business administration role in 2015, the sky really is the limit here so if you have a great work ethic and a genuine desire to succeed then I can't recommend Searchability enough."
Olly Preston joined in 2016 with a background in contract IT recruitment, and is now a Director of Searchability: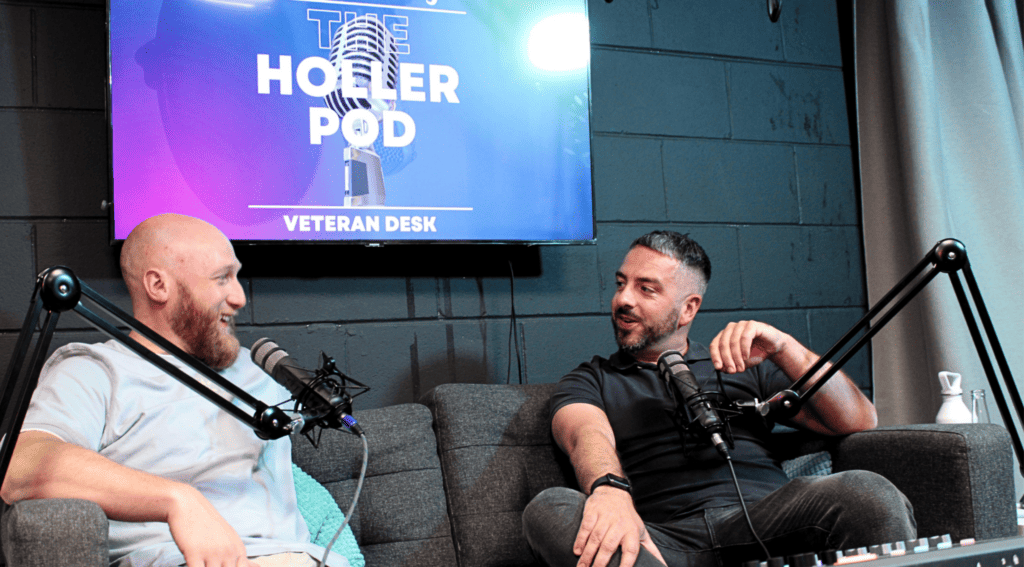 "I was recruited to join Searchability in November 2016 after leading an IT contracts desk at another agency. I was tasked with building the contracts division for the brand from scratch and was given the backing and autonomy from Martin to build a team to support our growth objectives for the organisation. I was able to grow this arm of our business to be one of our key revenue drivers within the first year, and in 2019 I became a Director of Searchability.
I remained hands on with recruitment for a few years after this (post pandemic), but today my role as Director involves overseeing the wider strategy and supporting both the contract and Permanent divisions to ensure they achieve the required success levels. Being a little more "hands off" has allowed me to explore opportunities outside of the recruitment desk too, including hosting our company podcast "The Holler Pod", running first of the month meetings and rolling out "masterplans" to talk about staff motivations and ambitions. This is a company with ambitious growth plans, and we are looking for individuals who share this vision who want to join us on our journey."

Cheryl Jones is our Director of People and Culture, with 15 years HR experience and having worked with Searchability on a consultative basis from 2014, she joined us as a permanent employee in 2019: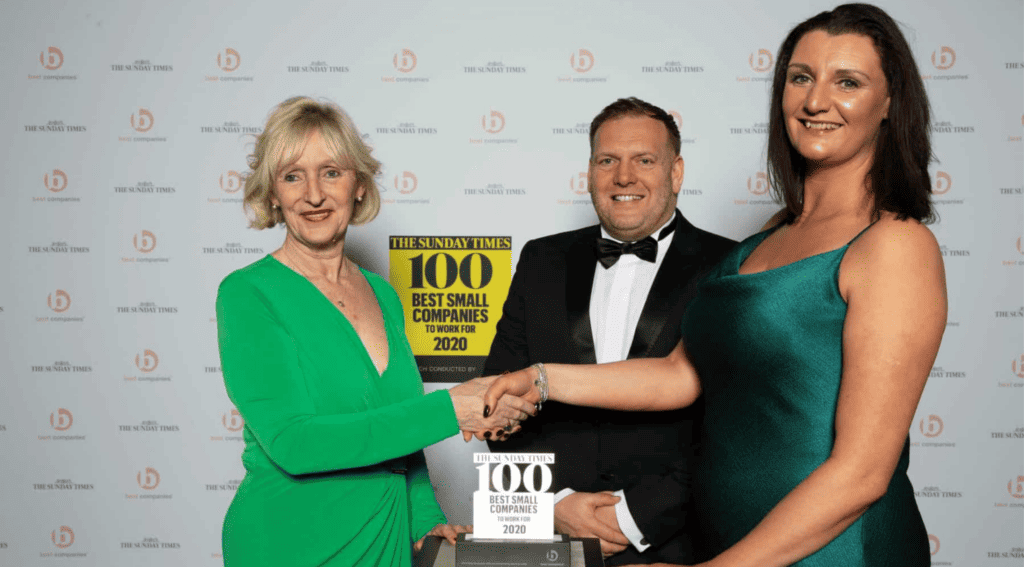 "When I met Martin in 2014 I was inspired and engaged with his aspirations for Searchability who at the time had around 10 employees. I would attend the Searchability office on an ad hoc basis and even in those initial formative years the culture was recognition led, vibrant, energetic and supportive. In 2019 my personal aspirations were realised and I was offered the opportunity to work full time for Searchability. I did not hesitate to take up the role of Director of People and Culture. The culture remains the same 10 years on we embrace individuality, we coach not tell, talk honestly and openly and truly care for our employee's wellbeing.

Employee engagement has naturally been a key part of my role, and a working with a strong supportive senior team who are SOUND has made this an enjoyable task. We regularly seek feedback on our employee engagement levels which has including participating in the "Best companies to work for". In 2022 we were ranked #2 in the top 100 small companies to work for and #2 in the recruitment category. This was a very proud moment both personally and for the company.

HR is at the heart of what I do but I have diversified my skill set in the last 2 years and been part of the project management team for our global expansion in to Australia and the USA. From legal compliance both employee and company to assisting employees with their visa applications this has been a very rewarding aspect of my time at Searchability. I am very excited to be part of this and will give our international teams the same support as those in the UK receive.

The company now have just shy of 100 employees and the culture could not be any stronger, it really is a place you wake up and want to come to work in and I feel proud to be part of this."
Dan Butler has been with Searchability since the very start, and is now Director of our grad and early tech talent platform Klickstarters: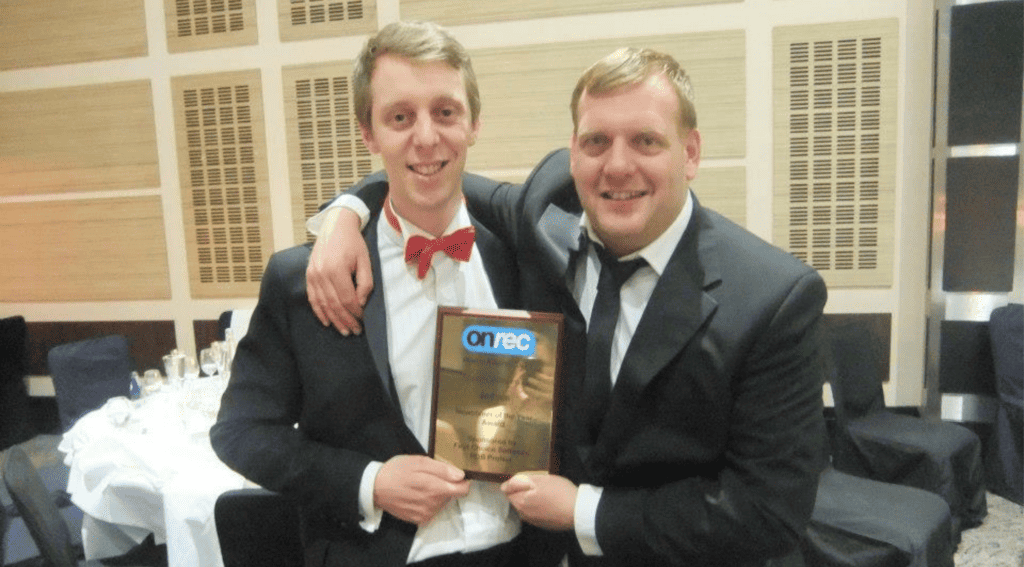 "I worked with our MD Martin at another agency prior to him setting up Searchability, and having worked well together previously he invited me to join him when he launched working as part of the recruitment team. I have seen the company grow from a two man band from a cramped office on the Wirral, to one of the leading tech recruitment brands in the UK with teams working across four global territories in amazing offices.
It's been great to be an integral part of the brand's growth, and even though I have been hands on with recruitment throughout I have also been able to get involved with the wider strategy and business operations to ensure we continue to grow as a business.
I was announced as a Director of Searchability in 2017, and most recently I took the helm of our grad and early tech careers recruitment brand Klickstarters in 2022. I can 100% attest to the fact that Searchability is a company that gives people the opportunity to completely transform their career, and life. Recruitment takes hard graft and a lot of resilience, but if you're willing to give it your all this company will invest the same back into you, helping you to become a success."
Gabbi Trotter joined as a resourcer in 2015, and since launched our software testing team and is a co-host of a number of tech meetups in the North West including Ministry of Test Manchester: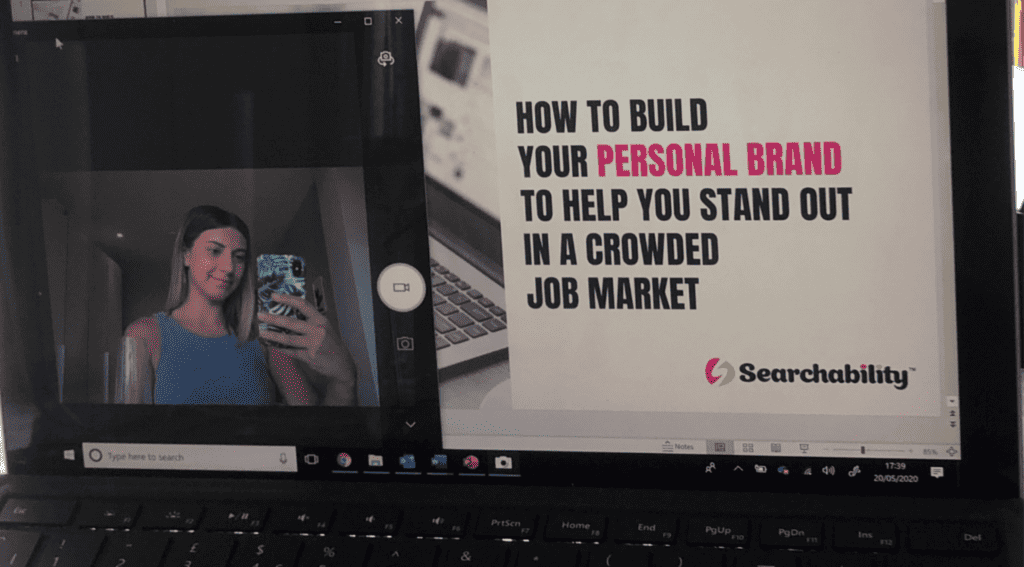 "I joined Searchability as a resourcer straight from Sixth form with minimal work, and if I am honest life experience! Searchability have provided me with all the tools and support, but also freedom to really run with my personal brand. I have been able to become an expert in my field and was encourage and championed to tackle a new market for the company.
I have grown so much as an individual over my 8 years with Searchability, pushing myself out of my comfort zone to talk at conferences and meetups, something I wouldn't of dream of doing before. I have been so lucky to see the company grow from around 13 people when I started to now 80+working across four global locations, however the company's ethos and feel sound policy has always reminded the same. If you want to join a employer who truly value personal growth I couldn't recommend Searchability more."
Will Roebuck joined in 2017 with no prior recruitment experience, and is now the Director of our sub-brand Searchability NS&D: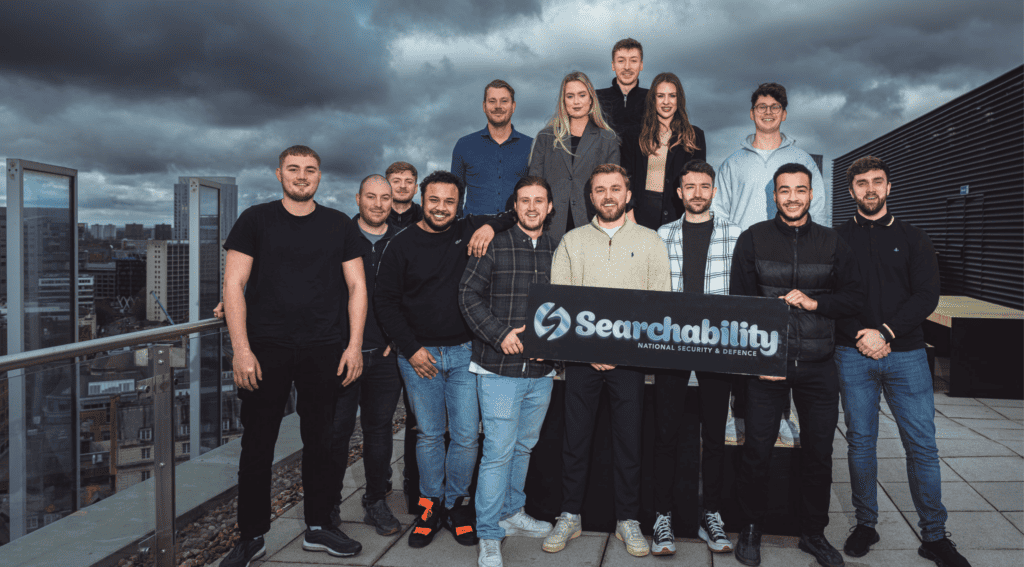 "I joined Searchability in 2017 after working within retail management for a number of years. Even though I had no prior recruitment experience I was given the training, resources and time to enable me to be a successful recruiter, working as part of the UK contracts division. Searchability always championed finding your niche and specialism within recruitment, and within my first two years I found this organically leant towards the security cleared market. It was an area of tech that really fascinated me, and seemingly there were very little UK agencies at the time who were truly specialising in this from a recruitment perspective.
As I was regularly placing security cleared candidates and attracting business within this area I had collected a great level of understanding to successfully match clients and candidates in this sector, which allowed me to open this up as a core market within our Searchability offering. After growing this team and delivering on a £1 million+ revenue target, Searchability NS&D was born and I became a Director of the brand in 2022, opening up our new premises in Manchester. Searchability gave me the opportunity to change my career, and my life, and I cannot encourage people enough to consider joining if you too have ambitions to transform your career."
Sophie Hopley joined in 2015 as a social media marketer, and today is the Marketing and Employer Brand Director for Searchability and Holler™: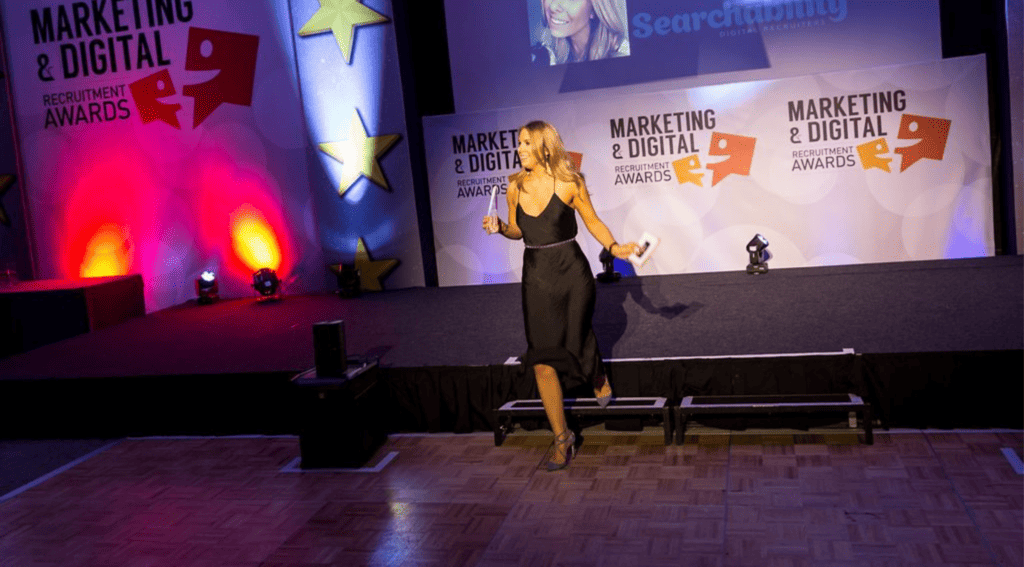 "I had worked within several marketing roles prior to joining Searchability, but this role was my first experience of marketing within the recruitment industry. Martin gave me the autonomy and support to develop my skills and understanding in this specific field, including funding my employer brand leadership qualification which gave me the understanding to help develop our recruitment marketing product into our full service employer brand agency Holler™ and tech platform JobHoller.

Over the years I have been championed to push my professional boundaries, including leading client pitches, delivering presentations and workshops at industry events – globally! I've helped us win a number of industry awards, including a personal one for "Marketing Star of the Year" which was a very proud moment. I've also been integral to developing our sub-brands at the group (of which there are many!) which has kept me very busy over the years!

Most recently I stepped out of the office for a years' maternity leave, something that I think is daunting for anyone who is so invested in their career. Luckily Martin and the team here made this completely seamless, and now I'm back I feel like I never left! I feel lucky to have been able to experience so many career highs since joining Searchability, and balance this with my new responsibilities as a mum too. I can't recommend Searchability enough as an employer, it really has changed my life!"
Janyve Blythe is the Head of Internal Talent at Searchability, and shared her insights on the growth strategy for the group:

"When it comes to hiring at Searchability, we are always excited when we find individuals who share our values and align with our brand vision. The individuals who find success are always those who are willing to put in the extra effort – we always say that hard work beats talent when talent doesn't work hard! Better still is finding individuals who have a genuine talent for sales as well as a great work ethic – that is a force to be reckoned with!

In return for their hard work, we are able to offer a lot in return to our employees. We've just been rated a 3-star accreditation for world class levels of employee engagement by Best Companies, we offer award winning training and development, transparent salary and progression matrix, uncapped commission, and an exhaustive list of employee perks including overseas trips for work conferences, feel sound flexible hours, monthly social events, wellness programme and much more.

I'm keen to speak to individuals who are interested in joining a forward-thinking organisation who are willing to work hard in return for a career that will genuinely change their life!"
These are just a few of our success stories so far. We want to keep adding to this list which is why we are on the hunt for the next generation of Searchability achievers! If you are interested in a career in recruitment then check out more about a career with Searchability here.