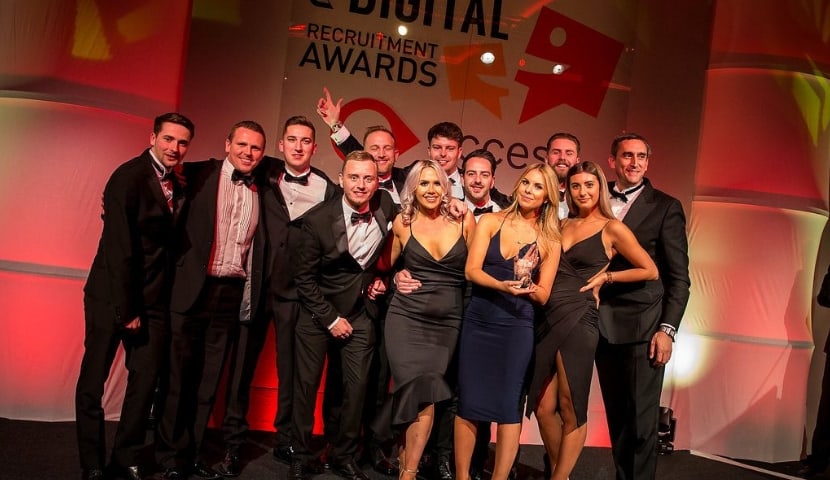 With less than five weeks to go excitement is building at Searchability HQ as we return to the Marketing & Digital Recruitment Awards (MDRA's) with six award nominations! The MDRA's were founded in 2010 and recognise recruitment firms that have displayed unparalleled excellence within the marketing, advertising, creative and digital sectors. Searchability proudly collected the title of "Best Tech Digital Team" at the 2017 and 2016 awards, and we hope to continue our success this year. Here's a look at what we are in the running for this year…
Best Recruitment Website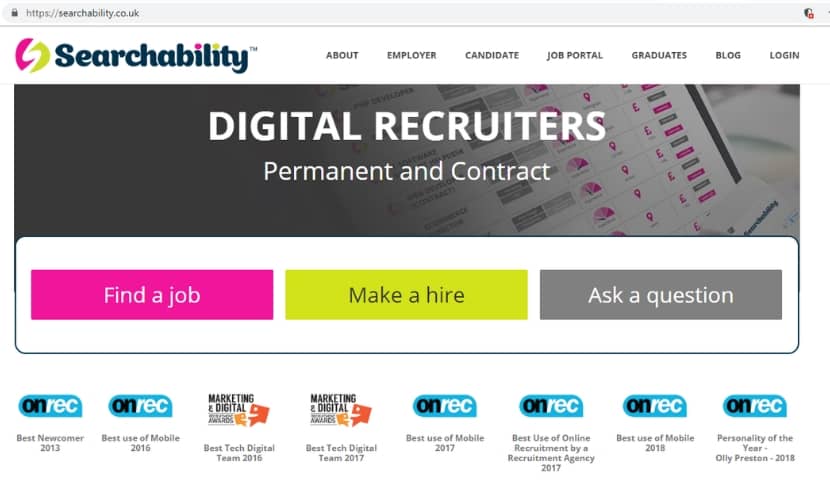 For a large number of candidates the job search begins online, so having a website that is mobile optimised, simple to use and full of useful information is essential to deliver a winning candidate experience. We have invested heavily into our website over the last year, with a dedicated hub for IT and Digital Graduates, additional job portal functionality, individual markets pages and our Searchability blog. Our website is an extension of our brand, bright, social and digitally focused and we have organically grown our site traffic consistently through recruiter activity and email marketing campaigns as well. The exciting thing here is that our website is constantly changing and evolving, we are looking forward to implementing even more changes over the next year to help our clients and candidates get more functionality and an even better experience too.
Best Candidate Experience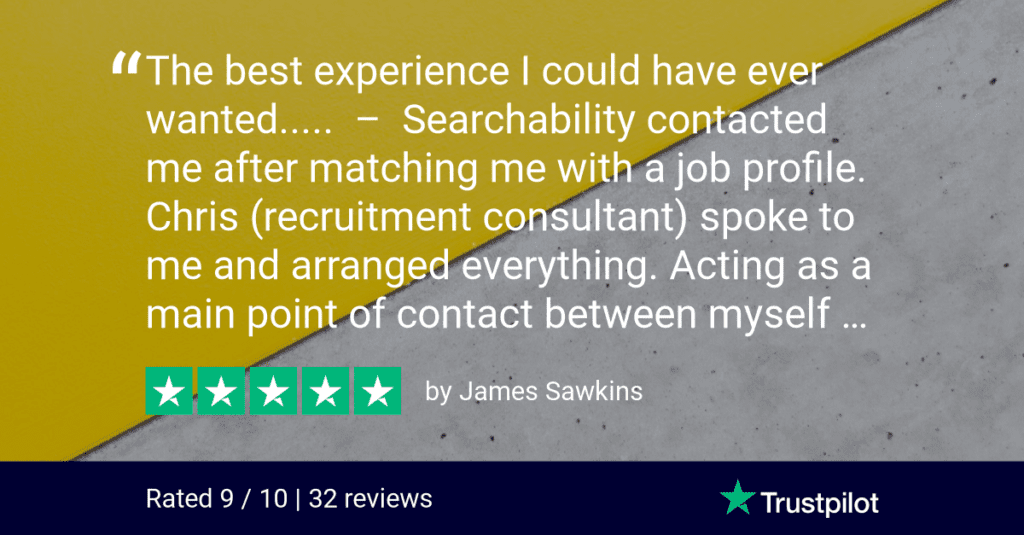 Delivering a great candidate experience is one of the top priorities at Searchability. We know how stressful the job search can be, so we not only support our candidates throughout the process to make this as smooth as possible but also helping candidates to find employers who match on both skillset and personality. We help candidates secure the best possible job offer with a company that they connect with and will hopefully stay with for a long time. We recently partnered with Trustpilot to help ensure we deliver a great experience for both candidates and clients, and we have achieved an excellent rating after just a couple of months of using the platform.
Technology & IT Specialist Team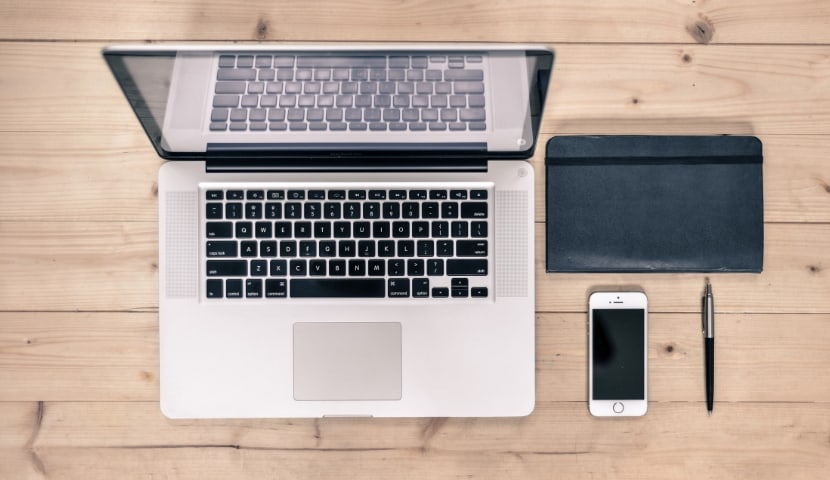 Formerly the "Best Tech Digital Team" (which we have held the title for the last two years), this year the MDRA has split this into different sectors of IT & Digital, and with Technology & IT being our biggest market we are hoping to continue our success with this. When we first launched in 2012 our specialty was software development, and this is now our biggest market here with permanent and contract specialist consultants operating across all UK locations. We also have a big focus on IT Support & Infrastructure, Testing, Big Data & Analytics, Design and Marketing. We basically cover all areas of IT and as a result we have helped a number of clients (from huge names to start-ups) to build highly skilled technical teams for their organisations. It's extremely rewarding to see the projects that have come off the back of placing these individuals and with continued growth of our client an candidate base this is only going to continue into 2019 too.
Recruitment Consultant of the Year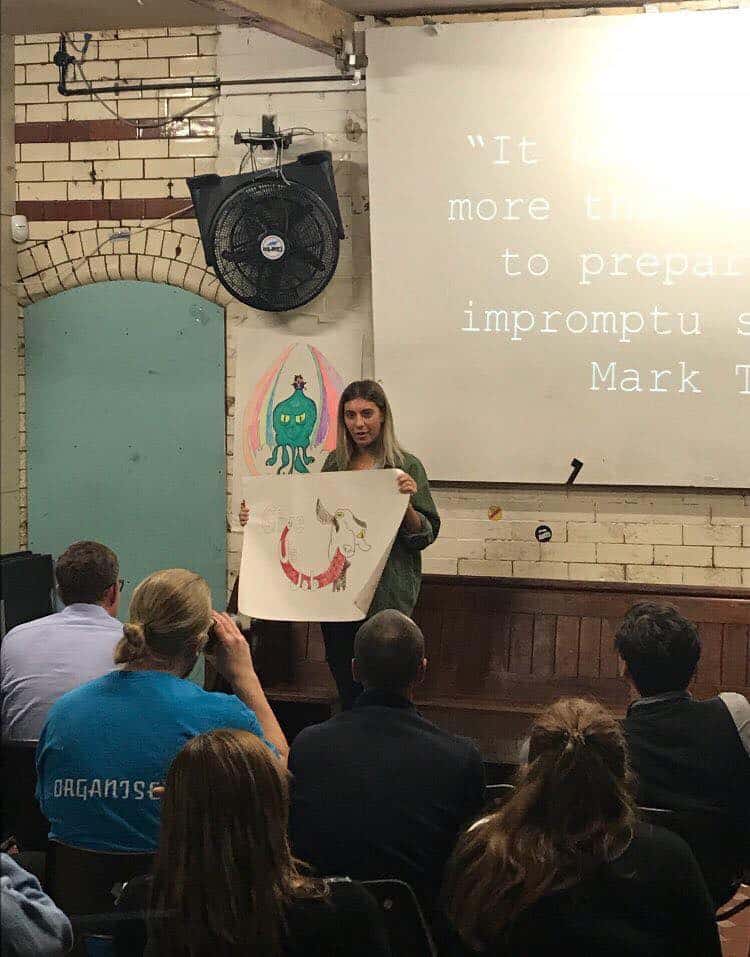 At Searchability we have built a group of fantastic recruitment consultants all who support each other enormously as a team. Someone who has really stood out over the last 12 months is Gabbi Trotter, our Team Lead for the Software Testing Department at Searchability. Gabbi started her journey with Searchability three years ago as a Digital Resourcer, and after discovering her niche within Yorkshire Testing took the leap to consultant last year starting a brand-new standalone market at Searchability. Gabbi has demonstrated incredible success with the number of candidates she has placed, but has also been instrumental to our business development bringing on new clients including BJSS and Sky. She is active in the Testing Community, both with her "Talking Testing" blog series and through supporting industry events too. We will be crossing our fingers for Gabbi on the night!
Marketing Star of the Year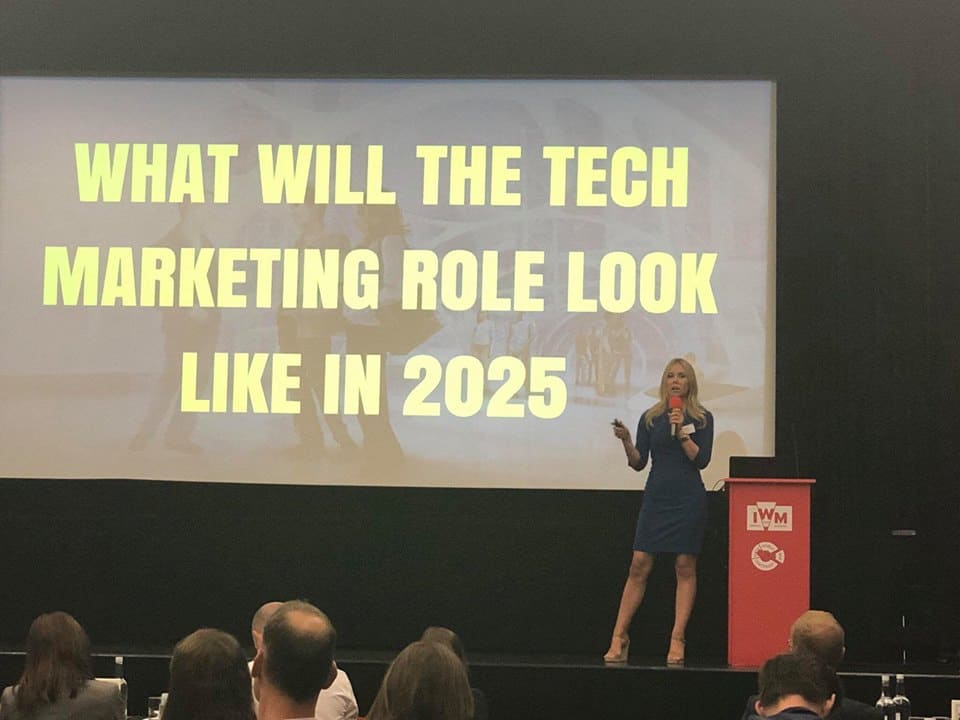 We have a strong focus on brand and marketing here at Searchability, both for ourselves and our clients, and this year our Marketing & Employer Brand Manager (who also looks after our sister brand JobHoller) Sophie Hopley is up for Marketing Star of the Year! Sophie is a huge support for Searchability, producing tender documents and presentations that have helped us to achieve new client wins, blogging across three separate platforms to help increase brand awareness, and keeping our social media engaging both for Searchability and by supporting the individual recruiter brands. She is qualified in employer branding and helps our clients to attract candidates through unique marketing campaigns and even speaks at events on the subject too which helps add a new dimension to Searchability outside of the main recruitment offering.
Agency of the Year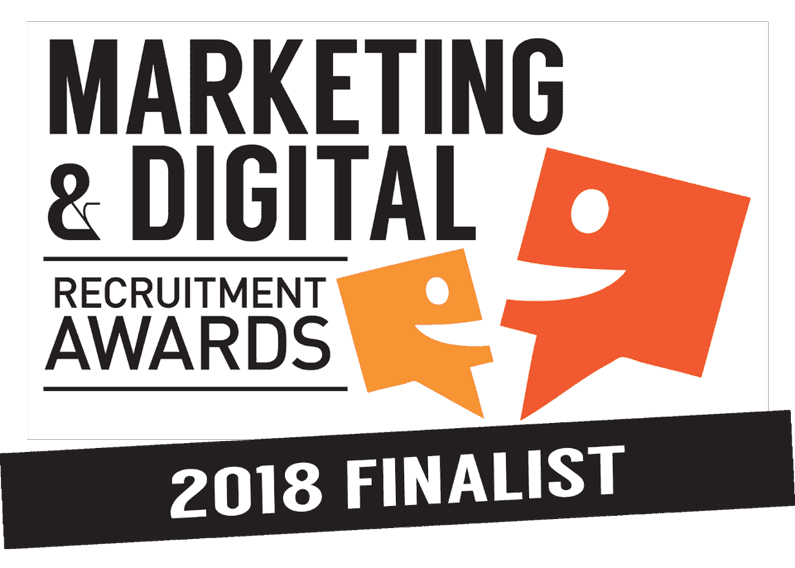 This is the big finale of the event, with all companies nominated from all previous categories entered into the mix for the grand title of Agency of the Year! There is some stiff national opposition here, with companies across a variety of sectors up for the title. With the growth and success we have achieved over the last 12 months this would be a fantastic title to achieve on the night!
The event takes place on Thursday 22nd November at the London Hilton Bankside Hotel – keep an eye on our Twitter for live results on the night!