As we start a brand new month at Searchability – which would usually commence with a fun-filled afternoon with the team for #FirstFriday celebrations – however due to the continued lockdown from COVID-19 we are instead taking the start of the month as an opportunity to reflect on all of the positive things that happened during April, both in and out of work. At the beginning of April there was a great deal of uncertainty in the recruitment market, and it was far from business as usual as we navigated the "new normal" of a fully remote workforce, but in true Searchability fashion our people took this challenge and used their passion, dedication and creativity to achieve great results across the business, and also spread positivity during these difficult times too! Here are a few things that happened in April 2020:
We helped 21 candidates find new roles in one of the toughest times
While a lot of organisations were forced to freeze recruitment due to the uncertainty of COVID-19, we continued to work with a number of fantastic clients across the UK tech digital sector who were in a position to add to their teams. Our core recruitment team at Searchability helped to find twenty-one candidates new tech roles (permanent and contract), all from the comfort and safety of their homes, with a number of these candidates starting immediately in a remote capacity. Some of these candidates sadly found themselves on the market either by having a new job offer pulled or their employer making redundancies, and others found themselves reflecting during the lockdown and choosing to explore new opportunities that were more suited to them, but it's fair to say that we have never been happier to tell our candidates that they landed a job offer as we were last month! Now May is here we are ready to help more candidates find a great new role too – check out our live roles here.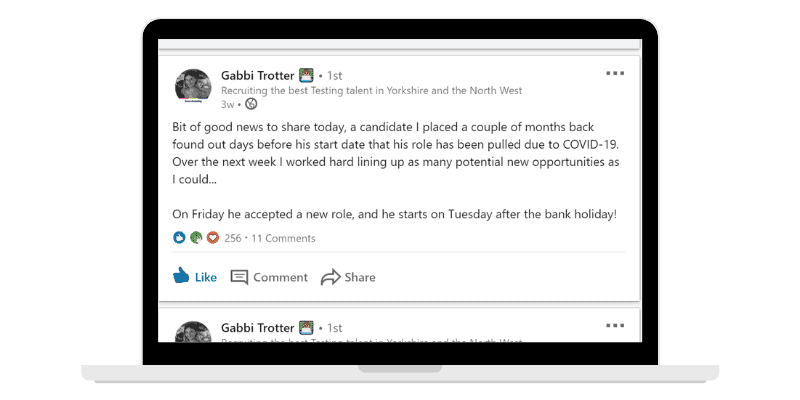 Almost 50% of our placements were made as a result of a Searchability Go video interview
As part of our efforts to support our clients during the difficulties of the COVID-19 lockdown, we opened up our video interview tool free of charge to help companies continue the interview process from the comfort and safety of their own homes. This tool was used in the process for almost half of the placements we made in April, and we will continue to offer all clients free use of the Searchability Go tool until it is safe to interview face-to-face again.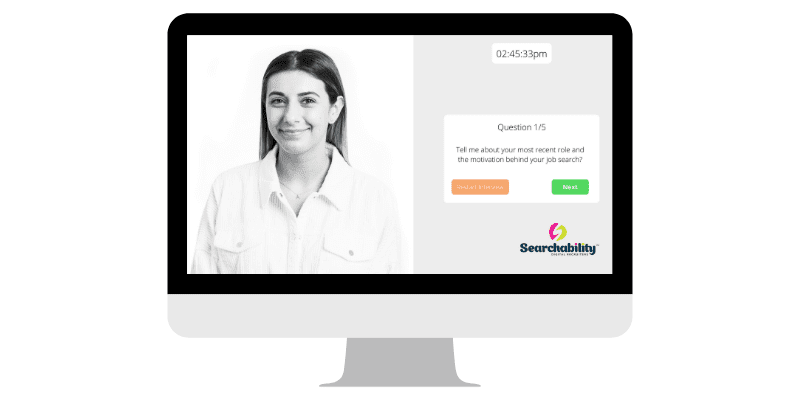 We introduced our "statement of intent" service
We know that a lot of organisations have put hiring plans on hold due to COVID-19, and therefore are not able to take calls from recruiters, provide CV feedback or open up interview slots for active roles. We also know that there are a lot of candidates who want to keep an eye on new opportunities, but do not want to be bombarded with recruiter calls, or do not want to appear to be on the market if they are on furlough leave etc. As a recruiter we have exceptional visibility of the tech digital market, so we have opened up a new "statement of intent" service that allows candidates and clients to keep updated with new opportunities / available candidates without any commitment. Learn more here.
We stepped out of tech digital to help clients recruit key workers
Earlier this year we introduced a service called Hirecracker, which allows companies looking to on board high volumes of candidates with solutions that protect their employer brand. Some of the industries that Hirecracker supports include logistics, healthcare and customer services – three of the areas that have been in need of key workers to help the country deal with the COVID-19 pandemic. Over April we opened up the Hirecracker.com solution for a number of companies, offering zero onboarding costs for those that needed to hire key workers. Learn more about Hirecracker.com here. Our employer brand agency JobHoller also helped to support the NHS recruitment drive with a complimentary candidate attraction campaign too – learn more here.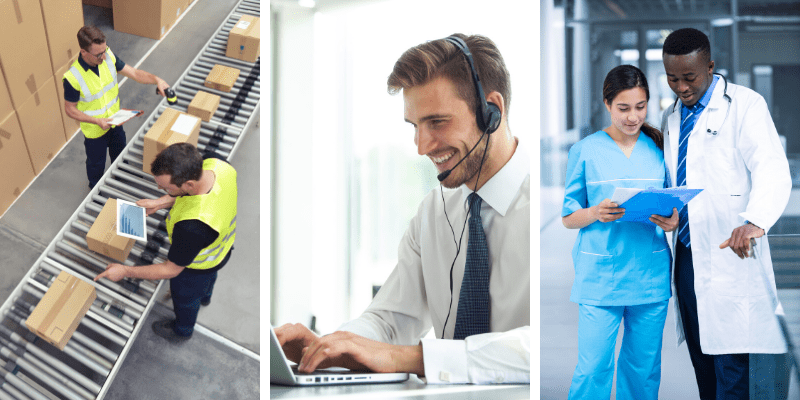 We introduced a new way to bring our team together digitally
As a company who has a strong social culture, the shift from being together every day in our lovely offices to suddenly working separately from our kitchen's and spare room's has been tough. We have a very active Microsoft Teams channel where we stay connected, share ideas, and of course plenty of office banter, but we wanted to take this a step further and so our MD Martin introduced the Searchability Friday Pub Quiz! Every Friday at 4pm our employees are invited to take part, with the chance of winning a doorstep delivery of wine as a nice incentive too. Getting everyone on screen together at the same time has helped to lift spirits enormously, and also kept a little structure in what has become a very unusual way of life for many of us!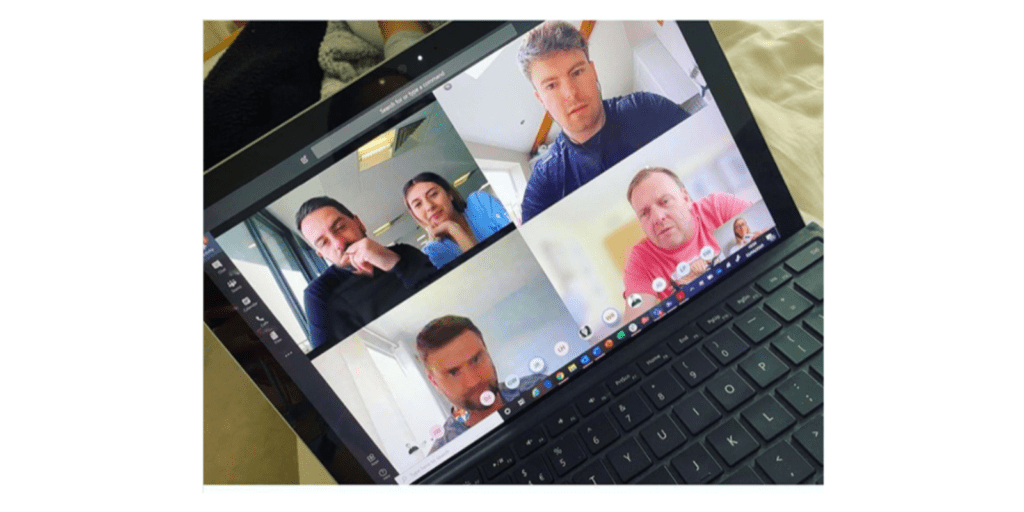 Furloughed employees used the opportunity for something amazing
At the start of April a number of employees took furlough leave, stepping away from the business with an opportunity to refresh and recharge during the lockdown. While of course some of this time has been spent taking longer lie-ins, binging Netflix documentaries and enjoying quarantine beers on a Tuesday night (because why the hell not!), some of our furloughed employees have been doing some amazing things too which we wanted to share! Laura Coppell was not only featured on a BBC News article about sleeping better during lockdown, but she has also completed a Google certification too to help her deepen her marketing knowledge! Jonny Clarke also spent his time gaining a Google Ads Search qualification, with plans to complete his display and shopping qualifications in May. Our resourcer Jordan has been learning British sign language and it seems almost everyone took part in the run 5km, donate £5 and nominate 5 people to help raise money for the NHS! We can't wait to see what our people do with their time off in May!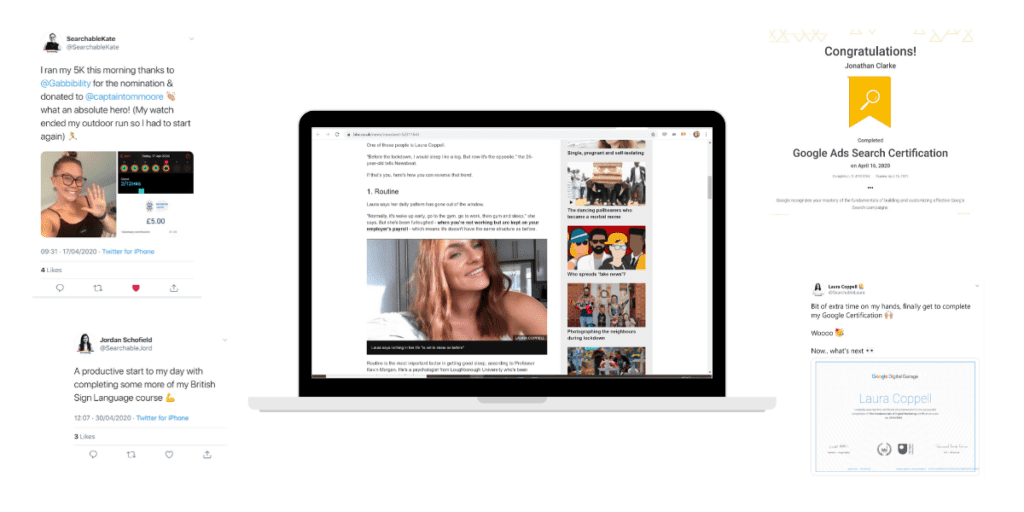 In all honesty we didn't know what to expect from April. We had just entered a UK wide lockdown that nobody would have ever seen coming, we didn't have a crystal ball and like most we were preparing for very testing times. The outcome however has seen such positivity that we are feeling extremely buoyant about the future as we navigate our way through the COVID-19 pandemic and beyond!
Our MD Martin said:
"I'm absolutely delighted with the results the team has achieved in such difficult times, an absolute testament to the dedication and team spirit we have at Searchability. Everyone has pulled together, everyone has contributed in one way or another and we really have been keeping each other going as a team. Looking forward to seeing more positive energy come out of this situation and coming out the other side even stronger!"
To follow #SearchabilityLockdownLife on Twitter visit our page here.