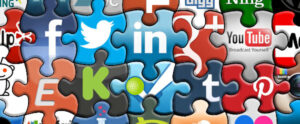 Social media is rapidly becoming recruiters and head hunters favorite tool in finding new and promising talent. The goal of the job seeker is to become a shining star out of the thousands of others who are utilizing social media to find jobs.
One of the most useful tools that job seekers and job finders alike use is the  Social Media platform LinkedIn. It is a platform, similar to Facebook, that was designed with your job skills in mind. It allows you to create an account, link to your current job and past jobs, and search for positions that may only be posted on LinkedIn. Professional groups and alumni programs are on here to allow you to begin to network with people who you already have something in common with. One of the best thinks about LinkedIn is that it allows employers to search for you by searching key words that may appear in your resume or profile about you. However, one of the skills that every job seeker must learn to do is market yourself. The employers on linkedin should be impressed enough with your resume and your profile that they reach out to you and give you an opportunity to apply or even interview for their positions.
Joining and utilizing LinkedIn is just the start of the social media tools. Twitter is a great way to showcase your thoughts and personality, and along with Facebook can create a great picture for employer. There are downsides if these are not kept professional. So stop wasting time tagging pictures and start your job search.
Of course Linkedin is just one platform, of a great number, in the jigsaw of social media platforms, that are useful when seeking employment or employees but it is proving currently to be the most effective.
Steve Blythe (Recruitment and Social Media Commentator).
---