Delivering a great service to our clients is always a top priority for us here at Searchability, and during the COVID-19 pandemic we have adapted our way of working so that we can continue to do this at the highest levels, whilst protecting the health and safety of our team. We know that this is a difficult time for many of us, and to help support our clients as best as we can we have opened up a number of new services, and adapted our existing offering to meet your needs. Below are a few ways that Searchability is working to support our clients during the pandemic:
Core recruitment team working as "normal"
While we are operating with a smaller workforce than usual during the lockdown, we have retained a core recruitment team with expertise across all of our main tech digital specialisms on both the permanent and contracts markets. All of these employees have a full remote set up from the safety of their homes, with full access to all of the amazing recruitment tools they have in our offices, meaning they are able to source, engage with and supply tech talent regardless of where they are. Scroll to the bottom of this page for a full list of our core team and their contact details.

Above: A few of the Searchability team working from their home offices (from left – Hannah Warrenger, Olly Preston, Daniel Massey, Will Roebuck, Steven Williams)
CloudCall phone system
Earlier this year we implemented CloudCall which is a computer telephony integration that plugs into our CRM system. This allows our recruiters to pick up, transfer and track all inbound calls (including our main Searchability line, our UK hub numbers and our consultants' direct desk phones) through their remote desktops, meaning we don't miss a beat even when working from home.
Free access to our video interview tool Searchability Go
To help support your immediate recruitment needs we have opened up our video interview tool Searchability Go free of charge, helping you facilitate virtual interviews in a way that's super easy for both our clients and candidates. Searchability Go is fully GDPR compliant and includes several great features – some of the best being that there are no downloads needed, our consultants arrange everything on your behalf, and you can even record interviews to help collaborate with your colleagues / hiring managers remotely when making key hiring decisions.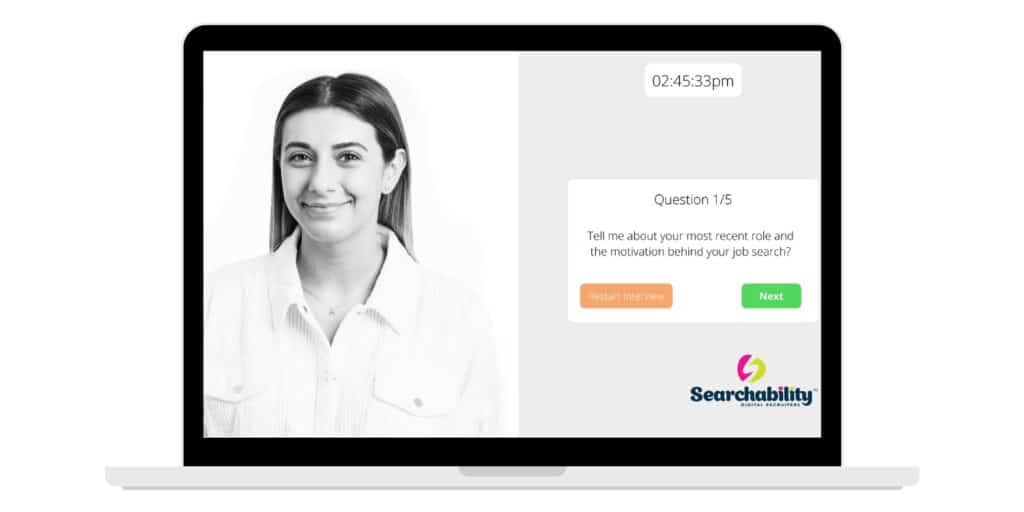 Above: Example of the "solo interview" pre-screening feature on Searchability Go
Statement of Intent option for no commitment
We understand that some clients will be interested in exploring the current market without committing to using a recruiter, which is why we offer our Statement of Intent service (SoI). The SoI allows you to stay updated with available candidates within your area of technology, just let us know what skills you would be interested in seeing and key locations. If you see a candidate of interest and decide you'd like to explore this further we can get the ball rolling, but only when it works for you. Click here to read more.
Flexible payment terms / extended rebates
The COVID-19 pandemic is putting a great deal of strain on many businesses, so to help ease any financial concerns you may have for recruitment we have included a few options to help. We can offer a number of flexible payment solutions to aid with cashflow, we are happy to discuss each scenario on an individual basis so please ask the question if this could help you. Dependant on the recruitment package you take out, we can also extend candidate rebate periods up to 6 months to help with any uncertainty that you have with onboarding or retaining new hires.
Employer Brand support from JobHoller
The effects of the pandemic are impacting much more than your talent pipeline, so if you have any concerns on how the crisis is affecting your employer brand or engagement levels then our sister brand JobHoller is on hand to offer advice and support. JobHoller can help you adapt your employer brand strategy in line with the "new normal", support employee engagement for remote teams or furloughed employees, and promote your positive employee stories too. Read the latest article "How To Keep Furloughed Employees Engaged Through The COVID-19 Pandemic" here.

Above: JobHoller presenting a workshop to 250+ global leaders at the last World Employer Branding Day
Affordable recruitment for non tech roles / key workers
Earlier this year we launched a brand new service called Hirecracker – aimed at helping companies with high volume recruitment needs to attract candidates through affordable solutions that protect their employer brand. If you have any non tech roles (e.g. for key workers within retail / customer services / logistics functions) then Hirecracker could help you fill these vacancies either through targeted marketing solutions or full recruitment options, with fees as low as 10%. During the pandemic, Hirecracker is waving all onboarding costs for companies looking to hire key workers, so please visit the site if you are needing any assistance with those urgent roles.
Get in touch with our recruitment team:
You can still reach us through all the main channels, but you can also see all the contact details for each member of the team that is working remotely during the pandemic below:
Dan Butler – Director – Software Development Yorkshire
07881 244 212 | [email protected] | @danielbutler85
Daniel Massey – Recruiter – Software Development North West
07584 358 089 | [email protected] | @DigiMassey
Daniel Jones – Recruiter – Software Development Home Counties
07704 152 638 | [email protected] | @SearchableDan
Chris Hopley – Divisional Manager – DevOps, Support & Infrastructure, Data
07880 358 143 | [email protected] | @SearchableChris
Gabbi Trotter – Recruitment Manager – Software Testing
07833 983 695 | [email protected] | @Gabbibility
George Widdowson – Recruiter – IT Contracts
07464 482 377 | [email protected] | @ContractGeorge
Hannah Warrenger – Resourcer – Software Development Yorkshire
07464 482 376 | [email protected] | @Hanability
James Gambino – Recruitment Manager – IT Contracts
07841 445 432 | [email protected] | @Gambinobility
James Roberts – Recruitment Manager – Software Development Midlands
07880 358 149 | [email protected] | @SearchableJim
Katie Donoghue – Digital Services Manager – Searchability and Hirecracker
07557 674 904 | [email protected] | @SearchableKate
Kelly Harvey – Recruiter – SC / DV Cleared and Development Roles South West
07889 589 648 | [email protected] | @SearchableKelly
Liam Harvey – Recruitment Manager – Digital and eCommerce
07841 471 789 | [email protected] | @SearchableLiam
Luke Parry – Recruiter – DevOps, Support & Infrastructure, Data Midlands
07833 460 940 | [email protected]
Olly Preston – Director – IT Contracts
07557 674 905 | [email protected] | @SearchableOlly
Patrick Doyle – Recruitment Manager – Software Development North West
07880 258 148 | [email protected] | @DigiDoyle
Sophie Hopley – Employer Brand Director – JobHoller & Hirecracker
07881 244 216 | [email protected] | @JobHollerSophie
Steven Williams – Recruitment Manager – Software Development London
07464 482 368 | [email protected] | @SearchableSteve
Will Roebuck – Recruitment Manager – SC / DV Cleared roles
07584 358 540 | [email protected]
Not sure who is best to handle your enquiry? You can always get in touch at 01244 567 567 / email us at [email protected] and we will put you in touch with the best person to help!