It goes without saying that the COVID-19 Pandemic has had a big effect on how we've lived our lives professionally and personally these last few months. The tech industry is one of the many industries that has seen a lot of positives throughout. Below we're going to highlight some of the reasons the tech industry has boomed during the Pandemic.
1. Working Online Has Become Easier and More Accepted
If there's one thing we all know it's that working from home has been the norm now for months. A lot of job roles and departments in the tech industry spend their time working online or catering to online projects, so they were no stranger to working in a digital environment.
According to Finder.com 60% of employees were working from home by the end of 2020 with 26% of those employees planning to stay in a WFH environment.
A lot of tech workers are likely to enjoy WFH as it's an environment they are used too. With the pandemic and various lockdowns this year, the world has proved that remote and online working is more viable than ever. This has resulted in a lot of companies, large and small, accepting and adopting WFH as a permanent policy. The advantage to this is the increase in use that tech designed for WFH and home offices etc. will see.
We have even done a spotlight on some of the latest remote tech vacancies that we have been dealing with!
2. Speaking Of Work From Home Tech
The need for tech that facilitates and improves a working from home lifestyle has now increased dramatically. We all need better and more accessible home offices now and the tech industry is poised to provide a lot of options.
Because of this, Tech companies providing services from software for working remotely to tech devices for bringing your home office into the modern WFH world are all seeing a rise in usage and business as demand for companies lockdown needs increase.
Alongside this, there is still a gap in the market for plenty of tech companies to jump and take advantage!
3. Fighting the Pandemic (and Future Diseases) with Technology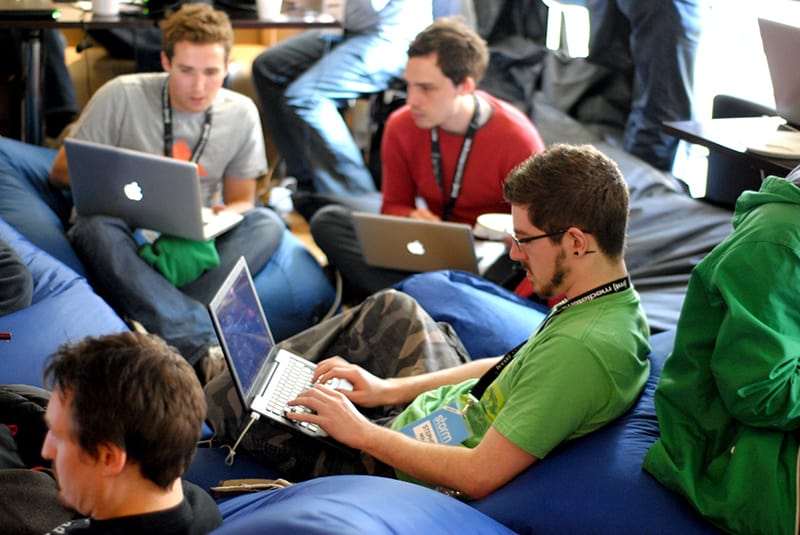 A lot of tech companies this year have been poised to help the fight against Coronavirus and future disease. Because of the Pandemic, more effective virus response has been called for which is providing opportunities for the tech sector to swoop in and save the day.
Through track-and-trace technologies to scenario testing programs, the tech industry has provided a lot of useful tools and solutions to dealing with a pandemic.
For example, Dawex created the COVID-19 Data Exchange to help highlight data collected during the pandemic. It allows free use of Dawex's platform for users to exchange non-personal data for studies about the coronavirus and limiting its economic harm.

4. Employment in the Tech Sector is up
While there have been a lot of companies finding themselves in an unfortunate position for the last few months in terms of providing employment, the tech sector has been lucky enough to escape this issue and even thrive.
According to data collected by Tech Nation 10% of all job vacancies by the end of 2020 were in the tech sector with signs of growth still appearing across the board.
With the increase in demand for tech roles this can help bolster the sector and also increase many tech companies revenue stream hopefully allowing them to employ from other sectors as well and giving a boost to most job roles!
5. Delivery Apps Won During the Pandemic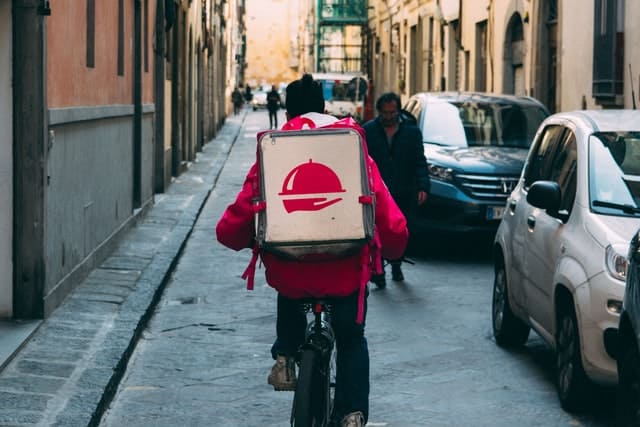 While owning a restaurant or food service during the COIVD-19 Pandemic definitely came with some major anxieties, the delivery apps were there to provide a safety net.
Delivery apps became an essential part of the restaurant service during the pandemic which gave a lot of app developers opportunities to increase their customer base and allocate more resources to developing their services.

According to JustEat during the first nine months of 2020 up to 123 million takeaways had been ordered through their app creating a 27% rise in orders compared to 2019. While Deliveroo has doubled the number of riders hired to ship their food deliveries around the country after adding 30,000 riders last year!
6. Video Chat Software has Zoomed Ahead in the Tech Industry
At the start of 2020 Zoom Video was a relatively small blip in the video chat software world. But once the pandemic hit and lockdowns began Zoom saw its user base spike dramatically. According to their own stats, Zoom began getting 200 million calls a day through the app during the first month of lockdown.
It's not just Zoom who saw a meteoric rise in users due to the pandemic, Microsoft Teams and Slack also reported a huge surge in users during 2020 with Slack reporting a 10 million per day user base during the Summer of 2020.
Looking at these stats it's no wonder we made our own Video Interview Software!