Ever since we launched Searchability we have been looking to push boundaries in recruitment. One of the things we are truly passionate about is improving the gender balance in the IT sector, and help more female candidates secure exciting careers in technology. Earlier this month the Searchability team chose to challenge in support of women in tech for this year's International Women's Day (see here), and we also sat down with Gabbi Trotter, Head of Software Testing Recruitment at Searchability, to learn more about how we can help drive this positive change. Take a look at our interview below or scroll to the bottom to watch the video!
What does the industry look like today for women in tech?
"Currently only around 19% of individuals working in tech are women, which is obviously a very low number and we would love to see that increase. This is due to a couple of different factors, things like lack of representation in the industry – less females holding senior / high-up positions in tech companies than men. There are also various different issues around diversity and inclusion – issues in the industry as a whole but also in specific companies. We are starting to see this shift in the right direction, I have been in recruitment for five years and things are starting to get better. We've got a long way to go but we are starting to see a lot more companies taking D&I seriously."
How can we help to get more women into the tech industry?
"So there are a number of different things we can do to help increase the numbers of women in tech. The first thing I would say is education – by which I mean offering a variety of different routes into the industry opposed to solely the traditional methods. There are some great organisations out there such as InnovateHer and there are a number of company led initiatives as well. I know Sky have an excellent program aimed specifically at encouraging women to get into tech. People that have maybe had career breaks or have been in totally different industries don't always see tech as something that would welcome them, so we need to change those perceptions. Representation – as I spoke about earlier – making sure we have female role models out there in the tech industry for people to aspire to, and to communicate clearly that you can be a woman and be successful and high up / senior in tech."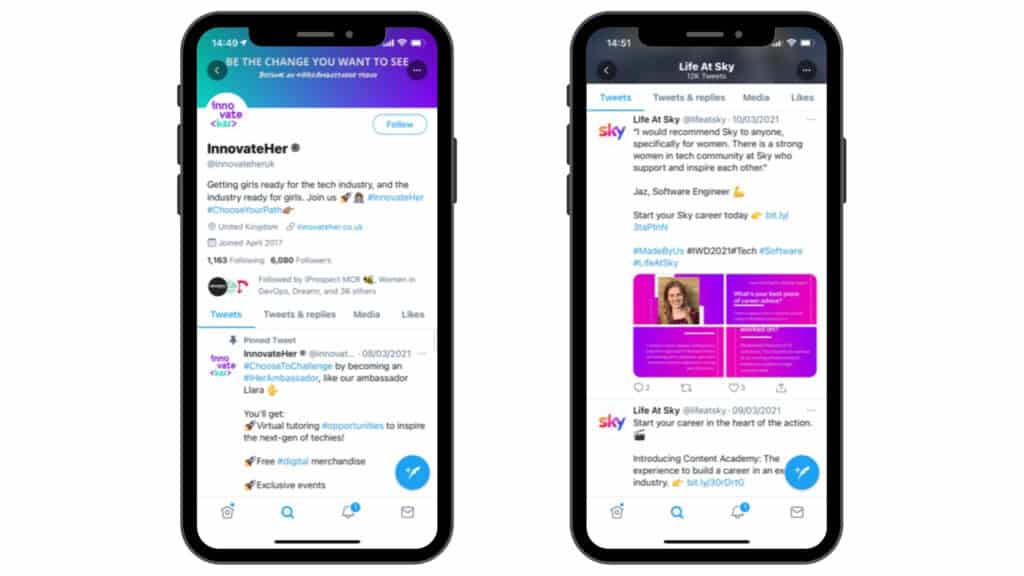 "Following on from that I would also look at tech events, making sure that all of the events that you are putting on are really inclusive to women. I help to run a couple of events within the North West Software Testing sector, and we are always considerate of the language we use when we advertise our events. We also push to get a diverse speaker line-up, so a mix of women and men, and again it's just showing that it's achievable to be a woman in tech, and make these events a little bit more welcoming. Last but not least what companies can do is make sure they have diversity & inclusion policies in place. I think this is really important because it shows as a company that you've thought about diversity and also you've got some serious policies in place to make sure that you are encouraging not only women, but also people from BAME backgrounds into tech, and once you have those diverse workforces in place, focusing on retaining them."
Can you give a shout out to any inspirational women in tech?
"Yes, I'd like to give a shout out to Suman at Sky – she's QA Lead over at Sky, and she is so active in the community. She puts a lot of events on and she gives up a lot of her own time to help women get into tech and specifically into testing. I'd also like to shout out to Gwen at Sonocent, she's an engineering manager over there. She used to be engineering manager at Monzo, again she is just a really amazing role model for a lot of people in tech. Last but not least I'd like to shout out to all of the women in the women in test Slack channel that I am lucky enough to be a part of. It's a really great online community for people to share their thoughts and "big themselves up" and also obviously vent about the difficult place the tech industry can sometimes be for women."
What to do if you are looking to get into the tech industry?
Of course the Searchability team are here on hand for anyone who is keen to break into the tech industry, but doesn't know where to start. Please do reach out because I can point you in the direction of a lot of influential people in the industry, a lot of online resources and just generally be a little bit of a helping hand for you on all things job hunting. So feel free to reach out to me at [email protected] / Tweet me at @Gabbibility.
View the interview on our YouTube channel below: