August has got off to a very good start at Searchability as we heard that we have been named as a finalist in this year's Global Recruiter Awards! It's an event we have had our eyes on for some time, but 2021 is the first year we have been officially recognised in these prestigious awards and what's most exciting is that it's for the "Best Employer Brand Award"! Employer branding is something that we are extremely passionate about at Searchability, in fact we have our own dedicated employer brand consultancy JobHoller as part of our group who look after both our internal employer brand and the employer brand of our clients too! The awards are set to take place in October 2021, so while we wait patiently to see how we have fared in the event we took a moment to look at some of the reasons why we have earned this exciting nomination.
We have a team of qualified employer brand leaders here
In 2016 we launched our sub-brand JobHoller – a dedicated employer brand consultancy and technology solution to help our clients adapt a more strategic approach to talent attraction and retention alongside our standard recruitment offerings. This is headed up by qualified employer brand leader Sophie Hopley who has 6+ years employer brand experience and delivered presentations to global audiences at two World Employer Branding Day events. More recently Leah Cottham joined the JobHoller team who also gained her employer brand leadership qualification in 2020 too, meaning we have plenty of resource to manage both our clients' employer brand, and our all-important internal employer brand too.

Our employer brand centres on our core value of being sound
Values should define your business, yet so many companies are using the same generic buzzwords to shape who they are that values are often losing their meaning altogether. We used to be guilty of this ourselves, we had a collection of words that we felt defined who we were and how our people behaved as Searchability employees, but when we looked at them, we felt that they didn't do us justice. So we chose to take this back to the drawing board. We engaged our employees and set out to re-discover what our values really were – ignoring the usual clichéd buzzwords painted on most company walls. The results? One core value that genuinely defines Searchability: Be Sound. To be sound is a state of existence. It usually refers to someone who willingly does something positive for somebody else, asked or not, although usually unexpected. Alternatively, "sound" can be used as an adjective to describe a genuine, nice person. Every decision that is made at Searchability and every action we take is driven by this value. All our employees live to the value of "being sound", and as a result we are helping to change those "not so nice" perceptions people have of recruitment consultants, one sound action at a time!
We deliver unique employee experiences
Searchability is a fun place to work, and we like to celebrate this as much as we can! Every month we deliver a unique experience with our #FirstFridays, giving our people a chance to tools down and spend time with their teammates. Our #FirstFridays have ranged from Olympics themed parties such as our "Searchabrazility" #FirstFriday in 2016, rounders tournaments, Chinese New Year celebrations complete with personalised fortunes and even boat parties! In addition to our monthly celebrations we also run an annual trip abroad for our team to places such as Mallorca, as well as trips to Chester races, awards nights and offer rewards such as meals out for our employees and their families too! We hate to use the phrase "work hard play hard", but it is very important to us to keep fun as a big part of the employee experience here!

We invest into employee development
One of the most important EVP's for our people at Searchability is the opportunity to progress and develop in their careers, which is why we have a key focus on employee development here. Firstly we have a completely transparent salary matrix, that gives our employees a clear pathway to progress in both base salary and role seniority. There is also more than one pathway to progress when it comes to recruitment too, you may choose to progress through our resourcer pathway, our recruitment consultant pathway or our recruitment manager pathway! To help you get there we offer structured training both internally and externally, along with access to conferences, events and resources to help you become an expert in your field.
We focus on employee wellbeing with our employer brand
In addition to our #FirstFriday's we also deliver employee wellbeing sessions on #ThirdThursday's too! These events have included puppy therapy, on-site massages, hypnotherapy, mindfulness sessions, sleep therapy, financial wellbeing, boxing classes and much more! We also give every employee private healthcare and a range of wellbeing discounts through Medicash, as well as our unique flexi-time programme: Feel sound hours!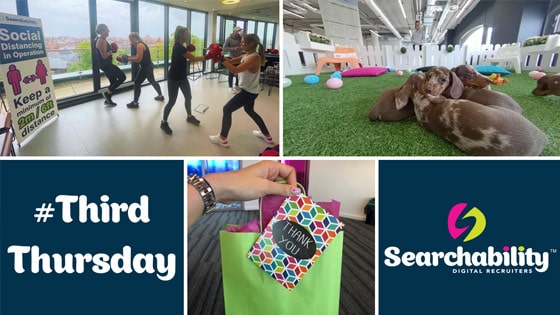 We have a great culture and environment
At Searchability we are always striving to be different, and this is something that is at the heart of our employer brand. We're not a corporate recruitment agency driven by KPI's and pinstripe suits, and we're not a company that relies on champagne fuelled nights out and a "Wolf of Wall Street" sales environment either. We have created a great environment and culture that is driven by our value of "being sound". Our big billers and Directors are earning phenomenal commission cheques, affording them to do some unbelievable things in their personal lives, but we 100% do not have a hierarchical approach to work and every single member of the team is treated with the same respect and attention no matter what level they are at. This value we feel is what helps to differentiate us from those recruitment stereotypes.
We love to shout about #SearchabilityLife
Social Media is a big part of our wider marketing strategy, so we use this to showcase our employer brand too sharing content across Instagram, LinkedIn, Twitter and Facebook to cater for different candidate audiences. We use the hashtag #SearchabilityLife to collate a lot of this content, and naturally through the experiences we deliver, we have also developed a good level of employee advocacy too.

Our employer brand attracts, engages and retains great talent
Once upon a time we relied heavily on external rec2rec agencies to supply talent for Searchability, but now our investment into our employer brand along with a talent pool approach to hiring means we attract and engage a high number of hires directly. Many of our new hires have applied to us directly, or discovered us through the #SearchabilityLife employee advocacy posts and shares! Our employer brand strategy has also allowed us to increase employee retention too, by collecting regular feedback from our people to help shape our offering to be one of the best places to work in the UK.
We will be heading to London on October 14th to find out whether we have won this amazing award, so keep an eye on our social media to stay up to date. We will certainly be raising a glass of champagne to our amazing team, and fellow nominees on the day to celebrate!