January and February are the best months to hire new candidates. The new year is the most popular time for people starting their job search. Making it the perfect time to employ new top talent! Unsure if the new year is a good time to hire? Take a look at these reasons for your company to make the most of the start of the year.
Most people search for a new role in January and February:
The process of looking for a new job fits the theme of New year new me perfectly. Over 10 Million Employees are Planning to Look for a New Job in the New Year. This equates to 34% provides hiring managers to utilise this opportunity and grow their teams. Most job deadlines end in January too, this gives candidates time to look for their new roles across the New Year.
It's important to keep in mind what the annual recruitment trends are. By following the trends of high recruitment levels and building your team amongst these months it's far more effective. This means there'll be more people out looking for a new role and who will be checking the job boards. This gives you the best chance at securing the best talent and people most suited to your companies hiring needs. Hiring during the low months may force you to hire people purely due to convenience and out of desperation rather than them actually being right for the role.
As it's important to understand the flows of recruitment, Below is a visual outlining which months of the year tend to have the highest and the lowest levels of hiring across the seasons.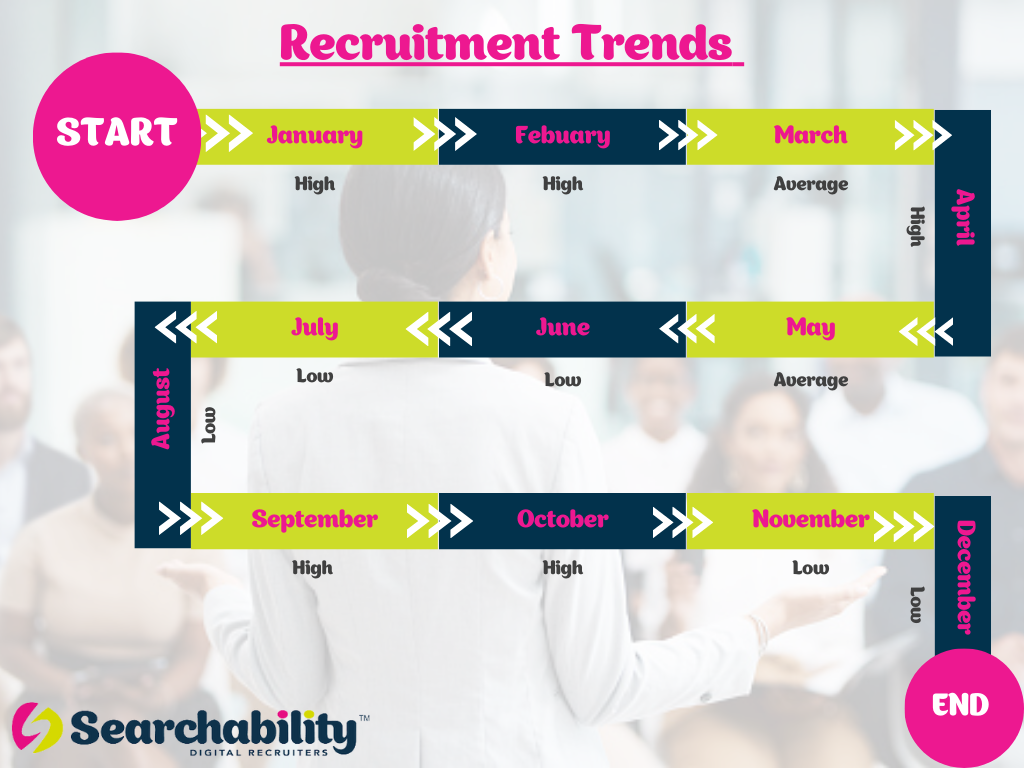 New Budgets and Goals:
Many companies have fresh deadlines and press reset on any budgets they had in the previous year. This means more funds to help you find the perfect new employees to join you in the new year. Following the Christmas rush a lot of employees will be exhausted and might've reached burnout. Burnout can cause alot of people to decide that they need a new role elsewhere. This makes January and February a great time to use the hiring budget to set your company up for success in the year ahead.
Less Holidays:
As most people have already been off for a while across the Christmas and New Year, few people decide to take time off during January. This therefore means that all key Decision makers are all present in the office. Meaning it's the perfect time to get together to conduct interviews and decide what you're all looking to achieve in the new year's recruitment plans. This also helps make your hiring process efficient and more strategic.
Further to this, the interview process will be far more streamlined for any more new potential hires. This is because everyone of authority within the company are likely to be present in the office and can therefore all sit in on the interview if needed. This means that candidate's won't be deterred away from the position due to a lengthy hiring process. Everyone can go and talk to the candidate in the same day instead of having to wait till other employees are back from annual leave to then call the potential new hie back in for endless stages of interviews.
Complete Projects and fill skill shortages:
Across the festive period lots of people take annual leave. This causes a lot of interruptions and can cause a lot of different projects to be postponed. This is a great reason to hire new permanent staff or even just contractors for extra help to finish off any incomplete projects. By hiring new people it introduces fresh perspectives to your team. This can be essential to ensure that your company's successful.
Similarly, following the rush before Christmas it may have highlighted gaps in your employees capability and knowledge. This therefore makes January a great time to find candidates who will fill these gaps. By doing do you'll eliminate any skills shortages amongst your team.
Holiday Bonuses:
Most people tend to wait until January to hand in their notice. This is beacuse lots of companies pay employees annual bonuses in December. Therefore although this means it's a great time to start recruiting new staff, it also means that it's inevitable that some of your own employees may also decide to leave. So it's definitely a good plan to set aside some time to make recruitment plans for the year ahead and onboard new employees to set the year up for success!
I you're still unsure whether you should hire in the new year, below is a few more advantages of doing so: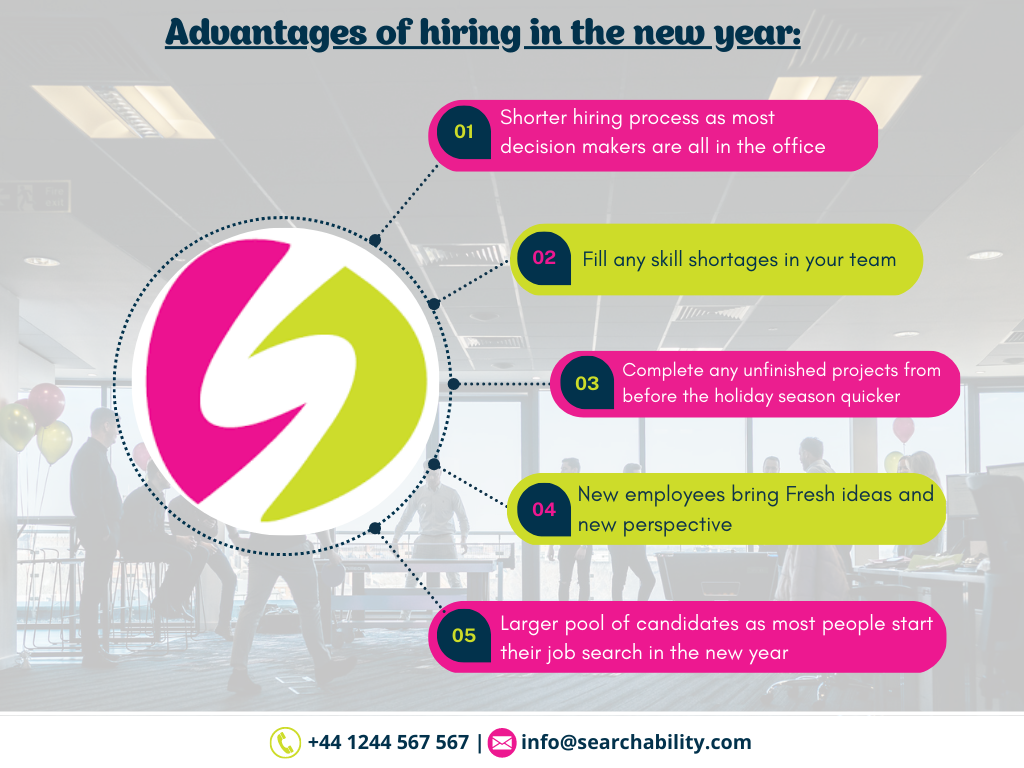 If you're looking to make some new hires this year then we're able to help streamline the process for you. Is your company hoping to hire some Graduates or fill Junior roles? If so Klickstarters is the perfect fit and will help you find the perfect candidate's. If your goal is scaling your team Scalability can assist you deliver your tech growth objectives!
Here at Searchability we're here to help you with all your recruitment needs. Contact a member of our team today – +44 1244 567 567 or email us at [email protected] .