Launched in 2020, Klickstarters was born out of Searchability. Our aim is to unite ambitious talented individuals looking for their first role in the tech sector across the UK.
With the pandemic in mind, lots of individuals suffered to achieve their dream jobs and were left in despair at the end of their graduation. However, with the tech sector growing at 2.5 times the rate of the rest of the economy – the UK is still facing a fatal skill shortage. Graduates are needed more than ever to look after your future pipeline. With the skills, enthusiasm and ambition to kick things off and start their career path. That's where we come in! We have created our service to give graduates and people wanting to start out in the industry the opportunity to do so through our beneficial Klickstarters scheme.
Low recruitment fees
These 3 words – low recruitment fee are music to any company's ears! Every Klickstarters placement comes at a low fee, so you can take on Graduates and individuals with less to worry about. With the need for tech talent in a skill shortage market, this can increase graduate employees in STEM. For example, for salaries up to £30,000 you will pay two installments of £2,250 + VAT, for salaries of £30,001 pay in two installments of £2,750 + VAT. PLUS we will protect your fees for up to 90 days (see below).
Fee protection between 0-90 days
We know as much as you do that can be hiring the right graduate for the job can be a difficult task. You don't know their loyalty and how they work in a tech environment – so we have a solution. For added peace of mind we offer fee protection
The first recruitment fee is not due until 30 days after the candidate starts, if a candidate leaves before the 30 days then NO FEE IS DUE.
Second fee due 90 days after a candidate starts, if a candidate leaves between 30-90 days then the second fee is not due.
Our fee protection allows you to disregard any concerns and worries you may have about taking on a junior or graduate to your workplace.
Complimentary careers hub with Klickstarters
As part of our Klickstarters service we build you a fully mobile optimised and personalised careers hub. Designed to showcase your Company, Employer Brand and Culture to engage potential candidates and display everything you have to offer.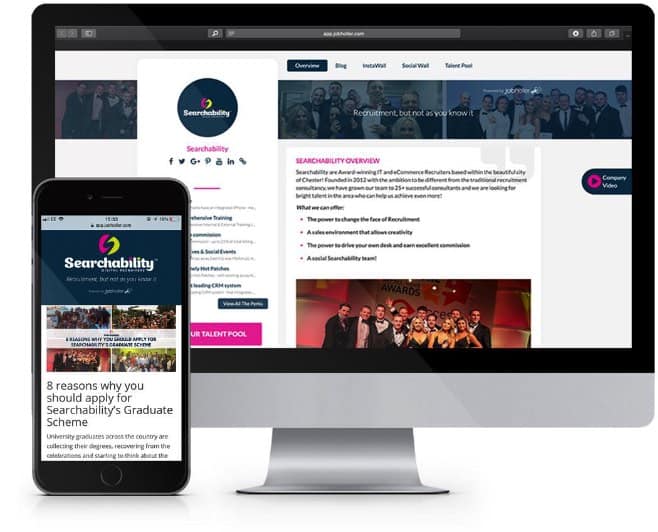 Searchability recruitment service
As Searchability runs the Klickstarters incentive this means you get to experience our excellent service. We are proud of our highly competitive service and top of the range tools. Any questions along the way we will be on hand.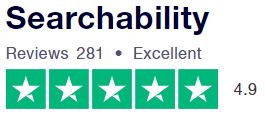 Free service for placement years
Do you offer a placement year to give candidates the opportunity for a real life experience in the workplace? We can unite clients with ambitious University students who want to undergo a placement year as part of their studies. This service is completely free of charge, just get in touch and we can do the hard work.
Get in touch today if you are looking at starting your Klickstarters campaign.