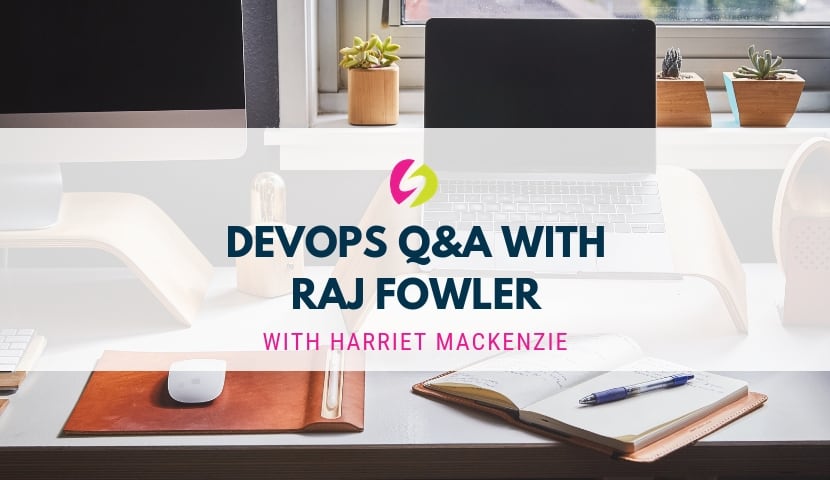 Our IT Support & Infrastructure recruiter Harriet Mackenzie recently caught up with Raj Fowler, Principal DevOps Consultant for DevOpsGroup to find out his career, implementing DevOps and Agile practices at BAE Systems and his advice to others looking to get into the sector.
Q1) Hey Raj, can you please introduce yourself and your role and give us an insight into how you got into DevOps?
I am currently the Principal DevOps Consultant for DevOpsGroup and have been doing this role since August 2018.
Prior to that I was the Head of Product Delivery for BAE Systems where I managed around 100 applications that served the 40k UK employees, 8 of these we transformed into Products and built product teams around them, employing DevOps and Agile principles and practices.
We made a significant impact to business performance through improving IT performance and in 2018 it felt right to leave by 20-year career at BAE Systems to build on my experience and help others transform.
For the people who have read the Phoenix Project, I have gone from being Bill, to being Steve and now I am Erik.
You can find out more in the Story of DevOps article contained within the DevOps Playbook. My last talk was also recorded where I shared my journey.
Q2) What is the best aspect of your role? If anything, what do you not enjoy?

In my current role, I have such an amazing variety of work from developing the next generation of concepts for the future of IT to speaking and events to working with clients to help them transform.
A key part of my role is to learn and to use this learning to help transformational leaders. I have been in the privileged position of being an IT leader and understand the pressures, challenges and rewards of being accountable for IT and in my new role I have time, access to amazing people with loads of experience at DevOpsGroup, leading edge thinking and access to multiple case studies in multiple industries. A big part of my role is to pull all this together.
Q3) I see you've recently undertaken the project of implementing DevOps and Agile practices and philosophies to BAE Systems. Can you talk us through the steps of change?
Sure, I have written a lot about this in the DevOps Playbook. No organisation will go through the same steps in the same order but I do believe that there are some key Dimensions and Capabilities that need to be considered:
Dimensions:
1. Transformation takes time
2. Delegate authority under aligned goals
3. Build humility and transcendent purpose into your leadership style
4. Build full lifecycle product teams and give them the right environment for maximum productivity
5. Focus on the right tools that accelerate the momentum of change
6. Change the paradigms for work; value, flow and quality
7. Develop the right practices and allow time for mastery
8. Create an environment where Truth is spoken and responded to
9. Avoid the anti-patterns of DevOps
10. Be obsessed with the customer
11. Automation as the momentum accelerator
12. Everyone should leave their legacy – a dent in the universe
In terms of capabilities:
1. Stability and throughput need not be a trade off
2. Benchmark your performance
3. Process and Measurement capabilities
4. Technical capabilities
5. Cultural capabilities
6. Scale and improve
Q4) What were the main challenges in this project, and how did you overcome them?

People. People are resistant to change and even when there is intellectual buy-in, undertaking the change can be really hard. I feel that as people, part of what we need are:
to believe in something bigger than ourselves, a transcendent purpose, a vision
to belong to a community, part of a real team and to feel safe
to be productive, to make a difference everyday
The key is to engage the transformation with these and bring people along on the journey. Belief and fear can make or break your transformation.
Q5) Who are some of your top influencers in the DevOps sphere?
Gene Kim, Jeffery Snover, Eli Goldratt, Eric Reis, General McChrystal, Nicole Forsgren, Jez Humble, Jeff Sutherland, Kim Scott, Jim Collins and James Kerr.
I have read a lot of their work, watched some of their talks and met a few of them in person. These people have inspired me and helped me form my path.
Q6) Companies are beginning to embrace DevOps at a growing rate, what technologies and trends are you most excited about seeing in the future?
Technologies that support the DevOps movement and practices are growing at a significant rate and organisations have many choices. I think there is going to be an increasing trend in open source technologies and organisations allowing their product teams choose their own tools, within reason. There may be some tools that are going to be mandatory across the enterprise (like source control) but there will be many that individual teams can chose themselves.
The trend for organisations to embrace through-life full-lifecycle Product Teams will continue to grow. This will require a significant breakdown of the silos and barriers that slow down and stop the work.
Q7) Do you have any advice for someone who is starting in the sector?


Take your time, Rome was not built in a day. This will take 2 or maybe 3 years before you have some tangible results that enable you to demonstrate the movement is working.
Don't dive into the tools – start with your people, teams and practices – Technology is a momentum accelerator not a generator.
Read, watch, learn – the whole organisation embracing from the sponsor to the transformation leader to the teams impacted. Start book clubs, lunch and learns, town halls, and build visibility, momentum and excitement around the change. The goal is not to create a 'DevOps' team, it's to create a learning organisation that can respond and adapt at pace so that you satisfy the needs of your 'beautifully, wonderfully dissatisfied customers'.
Q8) Amongst your many work responsibilities I see you're also a bit of a chef – what is your favourite dish to make?


I tend to love cooking in general – it's a place where I can open a bottle of wine, play my music and create something my family and friends will love to eat. I have been experimenting with recipes from the Spice Men and from Rick Stein's India.
You can follow Raj Fowler on Twitter and LinkedIn for more updates!