There are many benefits of using social media for recruitment – from increasing your exposure as a company to targeting candidates directly! If you're not maximising your social media presence, you're limiting the success of you recruitment campaign! It's something that we specialise in at Searchability! We're won and been nominated for several awards based on our ability to use social media to source candidates.
So to share some of our knowledge, we've created this handy infographic to display the key benefits of using social media!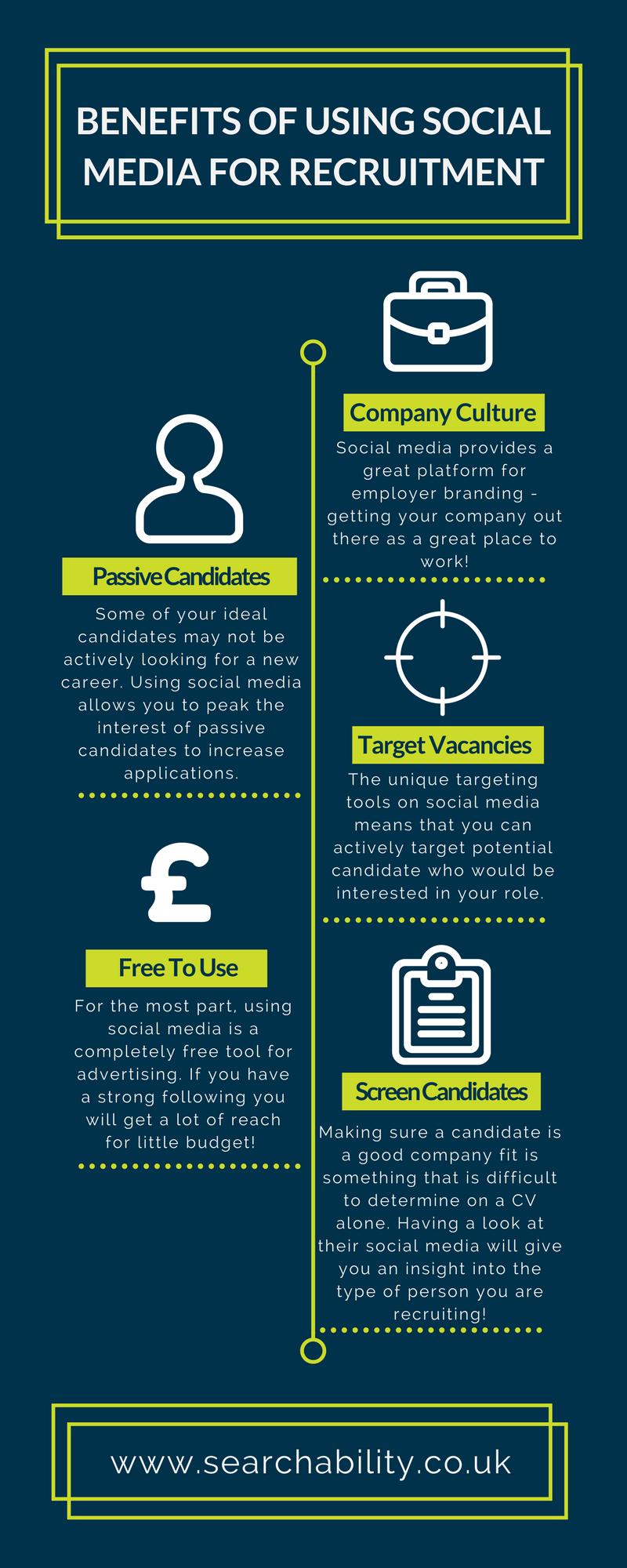 Company Culture
Employer branding is a hot topic for 2017! It's all about showcasing your company as a positive place to work – so social media provides the perfect platform for you to shout about your company culture and achievements. Creating a recruitment campaign that is based only on job adverts means that candidates are getting a finite amount of information about your company, where as combining this with messages of what it's like to work with you will increase the quality of candidates as they are likely to be a cultural fit as well as a technical fit.
Passive Candidates
Not everyone is actively looking for a job, so advertising solely on job boards means that you are limiting your audience to those who are actively looking for a job. Advertising via social media allows you to drip feed your message directly into their social media streams, which is where people are spending a huge amount of time!
Within the IT sector there are a number of hard to recruit, niche roles that getting little or no response via job boards. Using social media allows you to directly target those candidates with similar interests – hopefully leading to more applications!
Target Vacancies
Google+, Facebook and LinkedIn all have specific targeting tools that allow you to select who your advert goes out to. Whether you are using G+ communities or Facebook targeted adverts, you will be able to determine the audience you want whilst doing it all for free or a limited budget!
Free To Use
Social media advertising requires little to no budget to be successful. If you have already built a strong following across social media, you will already have a strong reach for your adverts to go to. Adding small amount of budgets to your adverts will increase exposure and ultimately job applications!
Screening Candidates
Using a CV to screen a candidates limits you to understanding only their technical ability. If you look at their social media presence you can begin to understand their values and if they will be a cultural fit for your organisation.
If you'd love to find out the difference social media can make to sourcing quality candidates, get in touch with us today! Click here for more info! 
Hannah Ryle – Employer Brand Consultant