Food waste is an increasing problem in the UK, with an estimated 10 million tonnes wasted every year.
This waste has a significant environmental and economic impact, with costs estimated at between £17 and £20 billion a year.
This waste occurs throughout the food supply chain, from production to consumption, and involves a variety of different stakeholders. To tackle this issue, it is essential to support solutions to food waste in the UK.
Here are 5 companies that are combating food waste in their own unique ways:
Too Good To Go
Too Good To Go is an app and website that connects people with food businesses that have surplus food. Customers can purchase meals for significantly less than the normal cost, helping both businesses and customers save money. So far over 21 million bags of surprise food have been saved by Too Good to Go, and they have partnered with companies such as Aldi, Morrisons, Greggs, and Pret a Manger.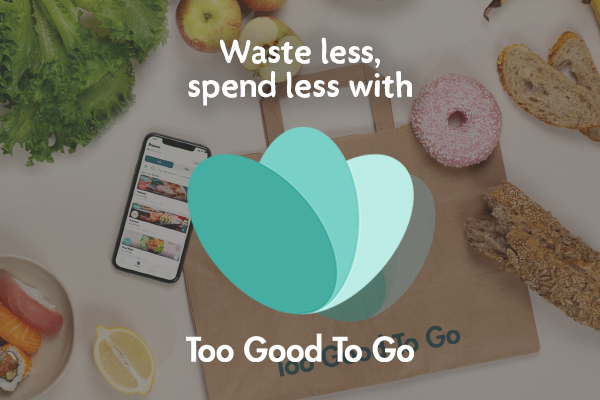 ---
Oddbox
Oddbox is a subscription-based grocery box service that delivers fresh, locally sourced produce to homes and offices in the UK. Each box contains seasonal produce, sourced from small British farms and local suppliers. The company is committed to reducing food waste and supports small farmers and local communities. Customers can choose a size and frequency of delivery that suits their needs, which will include items that are deemed "too big" or "too wonky". The B Corp's mission is to reduce the approximately 3 million tonnes of fruit and veg that goes to waste each year.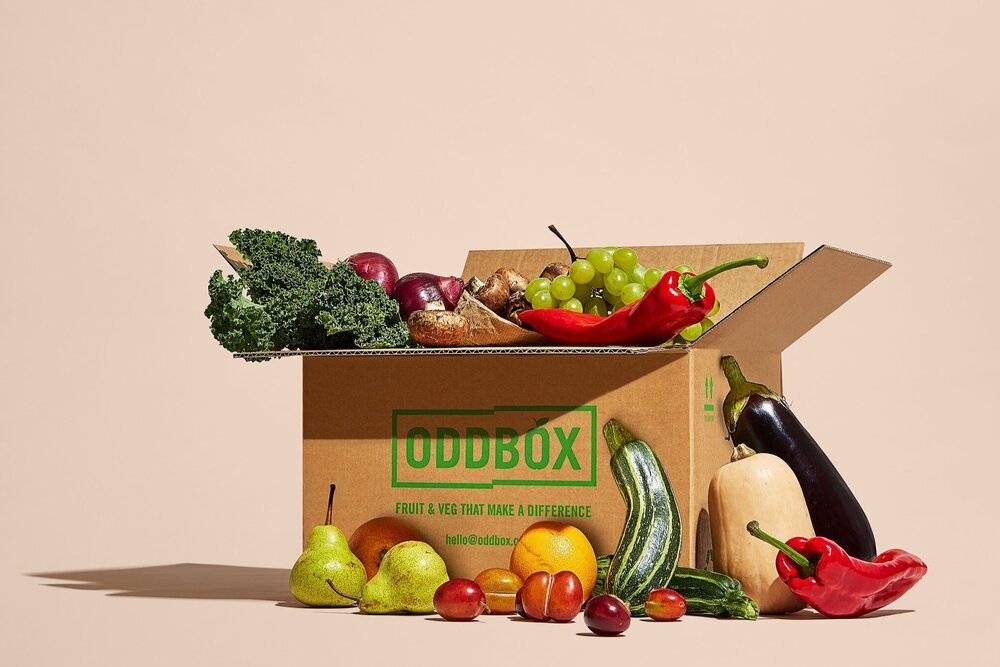 ---
Rubies in the Rubble
Rubies in the Rubble creates delicious and nutritious jams, sauces, and chutneys using rescued produce that would otherwise be discarded. Their mission is to reduce food waste and create positive social and environmental change. The company sources their produce from local markets, farms, and suppliers, and they partner with charities and food banks to donate products to those in need. By buying Rubies in the Rubble products, customers are supporting ethical and sustainable food production, as well as reducing food waste.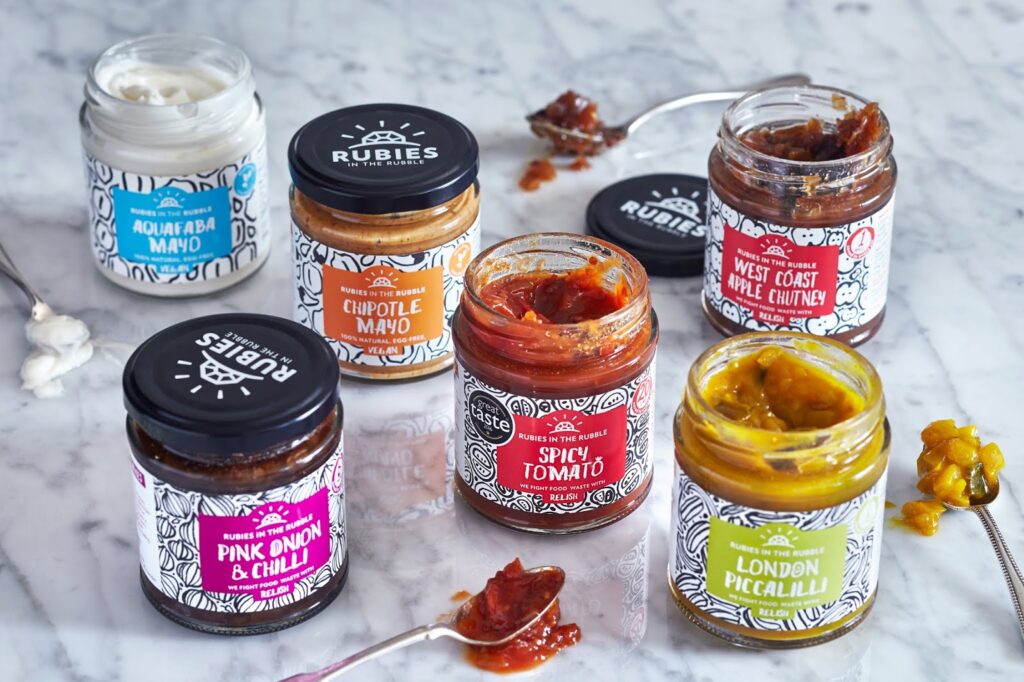 ---
Olio
Olio is an app that provides users with an easy way to buy, sell and donate unwanted items online. It focuses on reducing waste and helping people to make a positive contribution to the environment by connecting them with others in their local community. With Olio, users can list items they no longer need and share them with friends or the wider neighbourhood – for free. Olio offer a range of features to help users find items, such as a map view, filter search, and notifications when an item is listed. Finally, it allows users to donate items to their local charities, helping to reduce waste and providing much-needed support to their local community.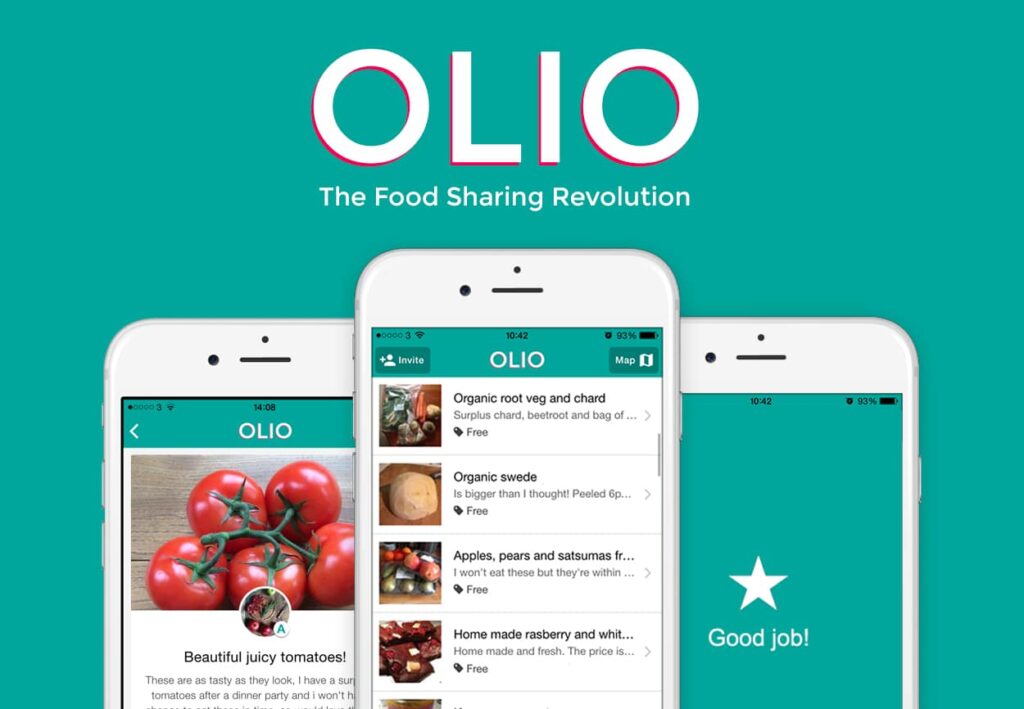 ---
Toast Ale
Toast Ale is an alcoholic beverage company that specializes in making beer from surplus bread. The company was founded in the United Kingdom and is now operating in the United States. Toast Ale's mission is to reduce food waste and support the fight against climate change. They use surplus bread that would have otherwise gone to waste and turn it into beer, and then donate the profits to charities fighting climate change. Their beer is a combination of hops, yeast, and surplus bread, creating a unique and delicious flavour. Toast Ale committs to sustainability, using local and organic ingredients whenever possible.
---
Food Waste Action Week
The 6th-12th of March is Food Waste Action Week 2023. The theme is 'Win. Don't Bin.' To demonstrate how valuable food is, and how using up everything we buy saves £s, time and the planet.
Food waste is a significant issue that affects both the economy and the environment. Public awareness, improved food distribution, reduced surplus food, and promoting sustainable food consumption are key to reducing food waste.
---
So how can I help?
There are several steps that households can take to reduce food waste, including:
Planning meals: Plan meals and create a shopping list to avoid overbuying or purchasing items that will not be used.
Proper storage: Store food in appropriate containers and refrigerate or freeze perishable items promptly to extend their shelf life.
Using leftovers: Use leftovers creatively to create new meals or freeze them for future use.
Donating excess food: Donate excess food to local food banks, shelters, or community organisations that can use it.
And the marketing team here at Searchability can vouch for buying a soup maker! to make sure no leftover vegetables ever go in the bin 🍅🥒🥔🥕