When choosing a new job role most of us will think about the following three things: What is the salary? Where will I be working? And what will I be doing? All of which can be deciding factors for candidates choosing their next role, however it's not just salary that people want – it's perks and benefits!
A recent study by Capita has shown that 66% percent of employees are more likely to stay with an employer that offers a good benefits package.
A role with a high salary may draw you in, but if the company doesn't offer a working environment / holiday entitlement that you need then the chance is you won't stick in that job very long!

At Namesco we understand that perks are important which is why we not only have really competitive salaries, but we have one of the best packages going to keep all of our employees as happy as possible!
We spoke to Jason Lamden. NOC Manager at Simply Hosting and Servers / Namesco in Reading about our employee perks:
"I use every perk that's going! It was part of the attraction of the job. The salary is competitive in our industry and in the area, but the perks are definitely above what you usually see in the market. In particular we have generous holiday allowance, and what is great is that the company is so family friendly – they understand the needs of those with kids so if you need time off (and your role allows it) you can work from home on those occasions you need to."
The holiday entitlement comes into play even more for those working in the NOC Centre – the employees here work on a shift basis of 4 days on, 4 days off and 4 nights on and 4 nights off – meaning you only need to use 4 days to take a 12 day break!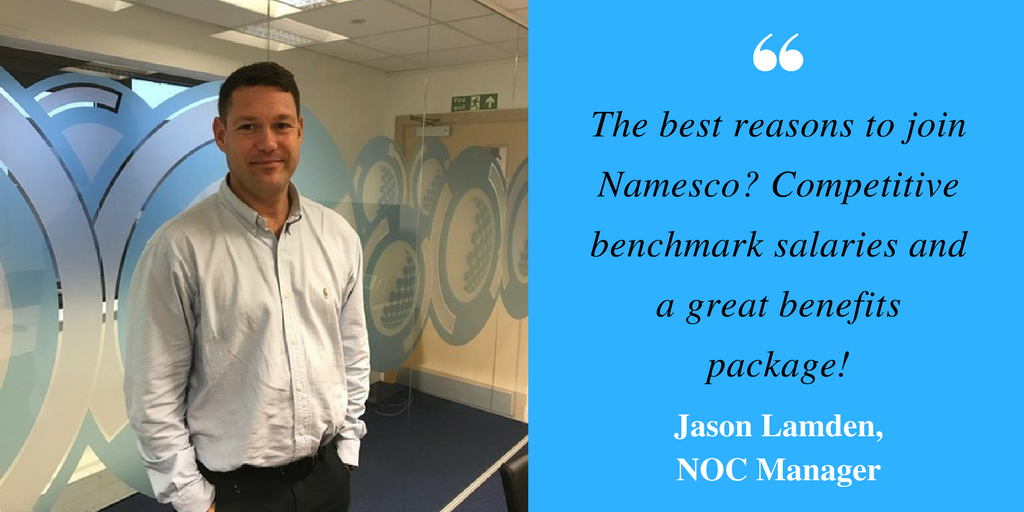 "My advice to people looking to join the NOC team is to come in with an open mind – don't be put off by the shifts – all our guys think the shifts are great! People have been reluctant in the past to work outside of a 9-5 and found it's actually gives you a really great work-life balance."
Jason Lamden, NOC Manager.
For those working in a Systems Administration / Development function you'll work on a 9am-5.30pm basis, but you'll still get the amazing perk of the generous holiday allowance! And as well as having a great holiday allowance Namesco offers a fantastic healthcare scheme, contribution to your pension, free onsite parking, electric car charging at the Reading site, company enhanced sick pay, social events including summer and winter conventions, long service and attendance bonuses and your birthday off work! We also participate in the childcare voucher and cycle to work schemes!
And it's not just about the perks! You'll work in a relaxed and friendly environment in a company that has a real family feel! We currently have vacancies for a PHP / Python Developer, Systems Administrator and a Technical Support Advisor in our Reading Data Centre – to find out more click here.