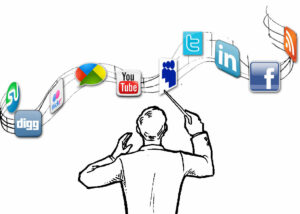 Social media has drastically changed the way businesses interact with the public. In fact, an annual "E-Commerce and ICT Activity" survey indicated that companies are abreast of current trends of using social media to develop their business image, market products and hire exceptional candidates. In fact, these are the top uses for social media among business moguls.
Using social media as a platform for customer opinions, reviews, and questions was indicated as the second primary use. Surprisingly, the utility of social media as a means for recruiting exceptional employees seems to be trailing far behind, ranking in at number 5. Could UK business be missing out on a great recruitment tool?
Using popular job sourcing websites to recruit candidates may limit businesses to only the individuals that are currently looking for positions in the market at that time. However, social media offers the opportunity to not only quickly fill positions, but also it expand the job market to potentially more qualified candidates who are not actively seeking positions but may be apt to make a career change if they were aware of opportunities.
Firms with smaller staff may be at the greatest disadvantage. A report from the recruitment firm Kelly services showed that smaller firms hired the least amount of staff from social media, around 9.9%. Larger firms, with over 1,000 staff members, used social media to recruit 44% of its workers.
Of course, some authorities speculate that using social media in the job recruitment process would only further the disconnection between employers and employees.
Recruitment speaker, Greg Savage, has spoken out against the use of technology for such purposes. As with all other sectors, social media has its advantages and disadvantages. Companies seeking to improve efficiency and the quality of their candidate pools may want to consider employing this seemingly growing trend.
---
---